Food trucks are an essential aspect of the Los Angeles experience. And when it comes to food truck catering, your choices and options can seem overwhelming.
Luckily for you, we're here to help.
We've put together the ultimate Los Angeles food truck catering guide to help you find exactly what you need for your event.
How to use this guide:
We've organized this article into two sections:
The best food truck caterers in Los Angeles: We've found and organized 21 of the top food trucks in LA that are great at catering. We've included the cuisine, what types of events they're great for, and what makes their food amazing.
How to book a food truck in Los Angeles: We've gathered info and tips to help you decide whether food truck catering is right for your event and to make sure your food truck event goes smoothly.
1. G's Taco Spot on Wheels
Great for: On-Set Catering, Fundraisers, Corporate Catering, Weddings
Cuisine: Mexican, Tacos, Breakfast, Burritos
Craving some Mexican food? Think quesadilla, ceviche, guacamole, burrito and tacos of all flavors and spices. With the most extensive variety of Mexican food, no matter what you are craving, you will be sure to get your fill at G's Taco Spot on Wheels!
Get your taste buds satisfied with the Wet & Wild Burrito, containing nothing less than steak fries and carne asada. Or fill your belly with G's Al Pastor Taco Salad, a mix of marinated pork with grilled onions on a bed of chopped lettuce and beans. Or, if you are looking for something with that extra tantalizing flavor, we recommend the Grilled Mexican Tequila Lime Chicken Breast & Hawaiian Roll – it both sounds and tastes delicious!
2. The Tropic Truck
Great for: Custom Menus, Fancy Affairs, Huge Events, Corporate Catering
Cuisine: Mexican, Seafood, Caribbean, Tacos, Wraps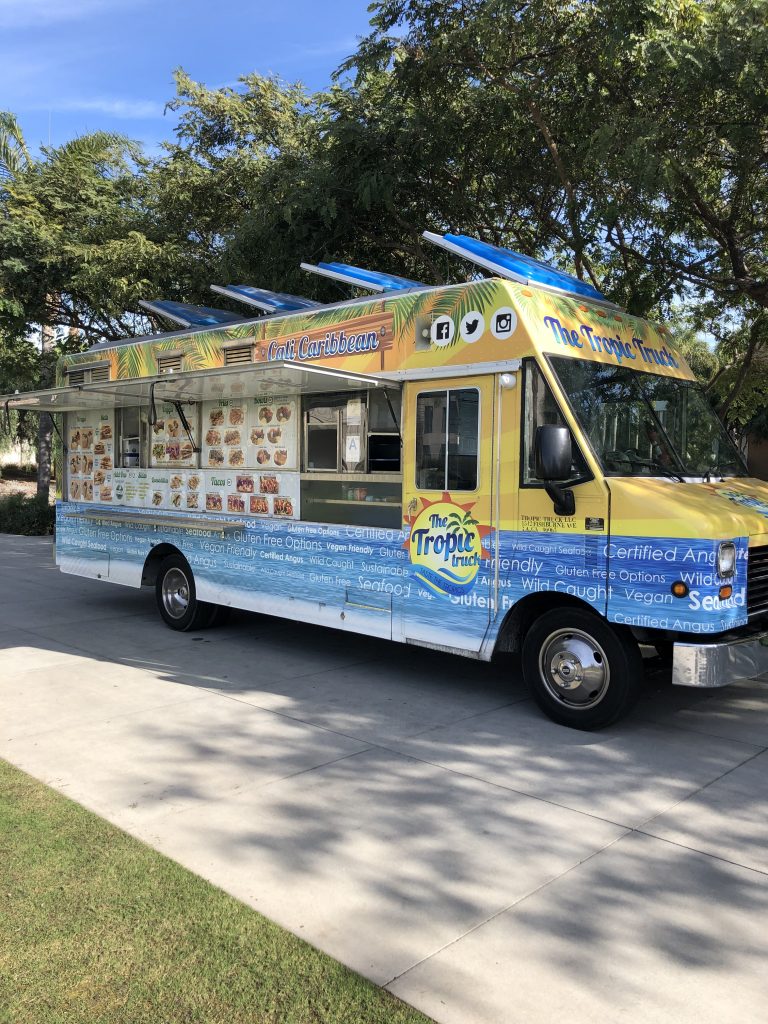 Whoever said seafood could only be enjoyed near the sea? No matter where you are, The Tropic Truck will bring the delights of the sea right to your doorstep – if you hire them for your next event, that is. Not only do they offer a wide selection of mahi mahi bowls, lobster bowls and grilled shrimp bowls, but they also bring some Mexican food to the mix, with quesadillas, tacos and nachos.
Mexican food plus seafood. What more could one ask for? Choose from Charbroiled Angus Steak Tacos to Blackened Mahi Mahi Fish Tacos, Charbroiled Angus Steak Quesadilla to Jumbo Shrimp Quesadilla, and Grilled Lobster Nachos to Charbroiled Jerk Chicken Nachos. You can even get your hands on some Lobster Fries – and trust us, they are even more enticing than they sound!
3. La Fiesta Mexican Cuisine
Great for: On-Set Catering, Family Events, Huge Events, Fundraisers
Cuisine: Mexican, Hot Dogs, Tacos, Sandwiches, Burritos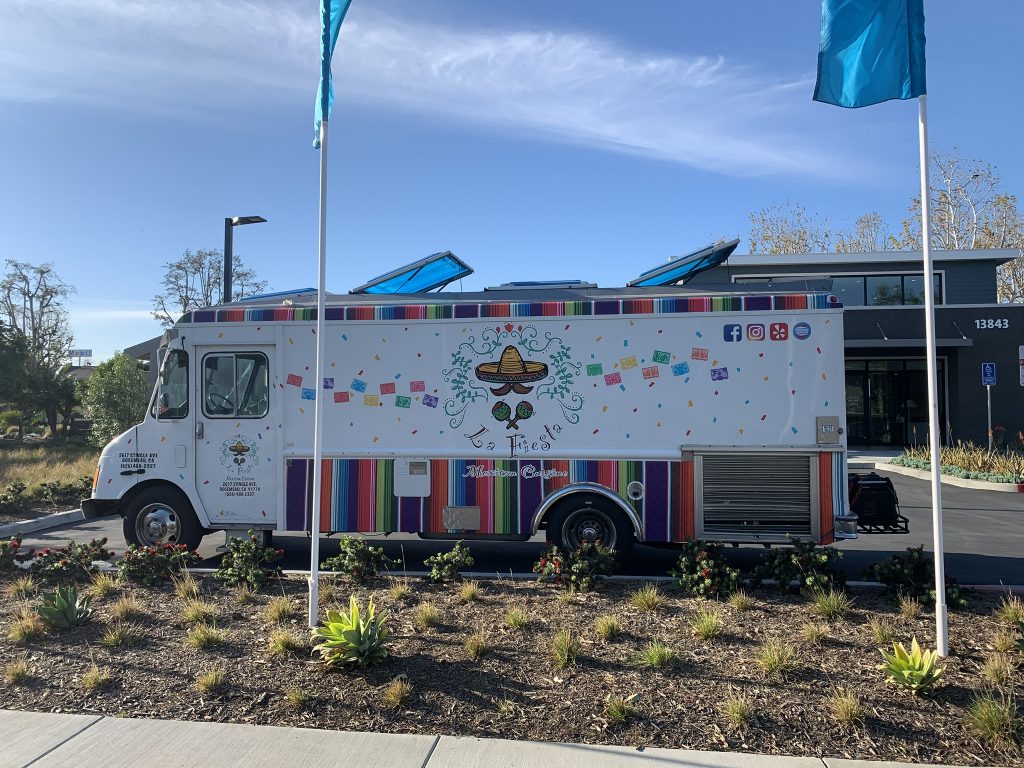 The La Fiesta Mexican Cuisine food truck takes Mexican food to another level with its refreshing hot dogs, tacos, sandwiches and burritos that will have you coming back for seconds.
Start your meal with a Choose Your Own Adventure appetizer, involving a selection of mini tacos, veggie spring rolls, crab cakes, sliders, shrimp and grits, avocado toast, and meatballs. Then, whip up a bounty of authentic Mexican fare with one of its mains. Not only do Edward and Guillermo serve you a hearty meal with the highest quality ingredients and traditional preparation methods, but they also go above and beyond to ensure you have a good time.
4. Pinch of Flavor
Great for: Custom Menus, On-Set Catering, Huge Events, Fundraisers
Cuisine: Mexican, Seafood, Vegan, Savory, Vegetarian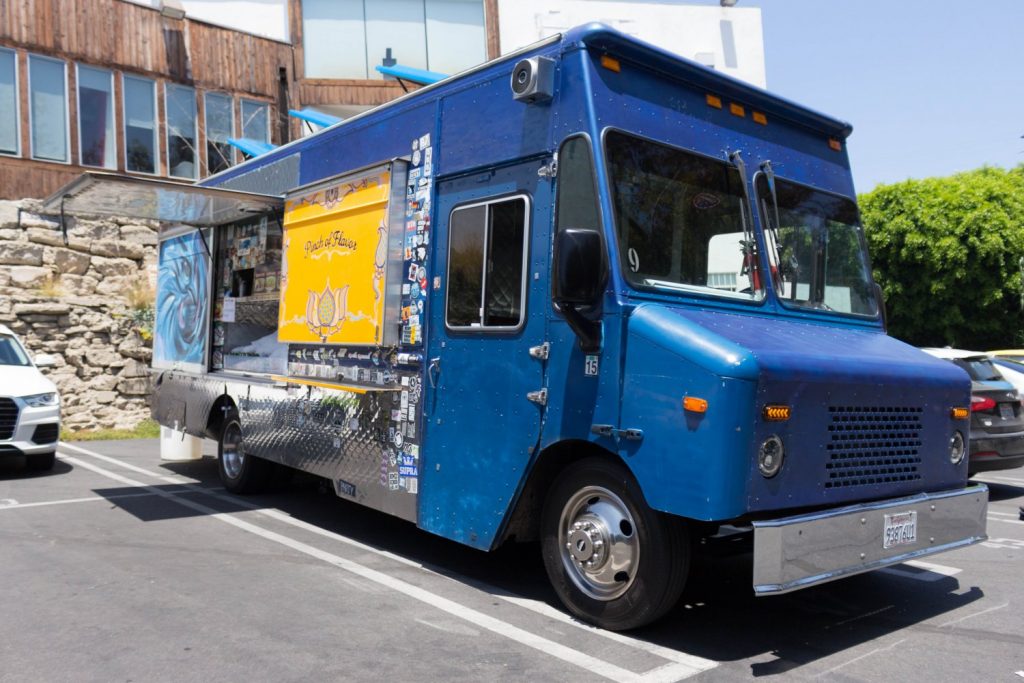 Combine Mexican food and seafood to get the most palatable and flavorful dishes, served by Isis and Jael at Pinch of Flavor. As you probably could have guessed from its name, this really is not your average taco truck. All the items on this scrumptious menu are seasoned with bold tastes and zingy blends.
The lobster burrito contains an exotic (and marvelous!) onions and cilantro blend. The tempura-style fish filet is spritzed with lemon juice and tartar sauce. The steak bowl mixes saffron rice with romaine lettuce and Monterrey Jack cheese. There is no way to do justice to these exotic, bold and very tasty delights than to try a pinch of their flavor yourself!
5. The Taco Cartel
Great for: Custom Menus, Fundraisers, Vegans & Vegetarians, Weddings
Cuisine: Mexican, Tacos, Burritos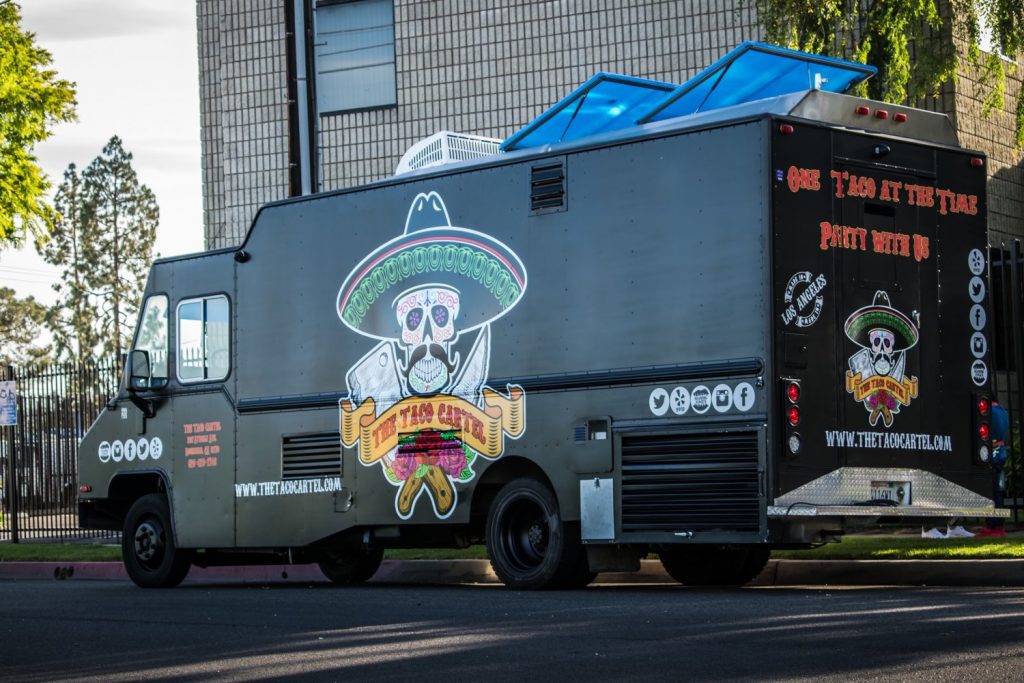 Treat yourself to something savory and special with one of the best taco trucks in town. Every burrito and quesadilla comes with rich flavors that are tenderly mixed into one classic delight. Take the Pablo Escobar Burrito for example – it is filled with the most satisfying al pastor, rice, beans, corn, red cabbage, onions, cilantro, and la verde salsa wrapped in a flour tortilla.
The Taco Cartel is known for combining authentic Mexican flavors with imaginative whimsy, with its interesting twists on each item on the menu. From the La Reina del Sur Quesadilla, a cheddar and jack cheese mix topped with chipotle salsa, to the Hot Cheetos Corn on the Cob, a mix of creamy habanero, Hot Cheetos, cotija cheese, Tajín and lemon, these fresh new spins will have you feeling like you are in Grandma's kitchen as she tries out new flavors from scratch.
6. Sabores de Mexico
Great for: Custom Menus, On-Set Catering, Corporate Catering, Vegetarians
Cuisine: Mexican, Organic, Seafood, Tacos, Burritos, Vegetarian
Looking for one of the tastiest Mexican food in town? Sabores de Mexico offers a wide selection of organic dishes, seafood, tacos, burritos and more. From Howdy's Special Breakfast Burrito to Malibu Veggie Burrito, there is something for everyone – both meat lovers and vegans alike.
Other unique dishes include the Huevos Rancheros – sunny side organic eggs topped with homemade red and green salsa mix – and the Cowgirl Veggie Paella – salmon, black beans and tofu served with savory saffron rice. Are you drooling yet? If you are looking for authentic spices and seasoning blends that add flavor to your traditional Mexican dishes, this food truck is the one to check out.
Best Barbecue Food Trucks for Catering
7. John Que's Smokeout
Great for: On-Set Catering, Huge Events, Corporate Catering, Weddings
Cuisine: Hot Dogs, Burgers, Sandwiches, Bowls, BBQ
When we say smokeout, we know you are probably thinking barbecue chicken, tender and meaty beef short ribs, turkey burgers and smoked ham. Well, if that is the case, you are absolutely right! But these do not even scratch the surface of all the dishes that John Que's Smokeout brings to the table.
Try the aromatic smoked salmon, cooked with Cajun spices that make salmon taste better than anything else you have ever experienced. You can also get a whiff of the curry chicken that promises to deliver a crisp taste of the Caribbean. The fiery and fresh Brats and Corn Lunch Package mixes both moisture and flavor to serve you the juiciest afternoon delight. With so many ripe gourmet dishes to experience, John Que's Smokeout is not a food truck you want to miss!
8. BBQ Smokehouse
Great for: Family Events, Huge Events, Corporate Catering, Weddings
Cuisine: Hot Dogs, Southern, Creole, Burgers, BBQ
"Our food is made with personal care, love, and commitment to quality." Mike and Regina say with pride. The looks on their faces say it all – not only do BBQ Smokehouse give other full-blown BBQ restaurants a run for their money, but they are born out of the most genuine and humble passion to serve the Los Angeles community with tasty BBQ treats. From fall-off-the-bone ribs to spicy Creole chickens, this delivery service that was originally created to raise money for underprivileged children has just what you need.
The food truck boasts Idaho potato salads, pineapple-infused coleslaw, Southern baked macaroni and cheese, vinaigrette pasta salads, Louisiana hot sausages, St. Louis cut pork ribs, smoked turkey breast and so much more! And do not forget to get a taste of their signature BBQ sauce, mixed with 37 different ingredients that nicely complement and add an extra spritz to all of their dishes.
Best Fusion Food Trucks for Catering
9. Cafe Vietnam Truck
Great for: On-Set Catering, Huge Events, Fundraisers, Corporate Catering
Cuisine: Sandwiches, Vietnamese
Cafe Vietnam Truck brings all your favorite Vietnamese delights right to the heart of the City of Angels. Yes – think jumbo egg rolls, 24-hour caramelized pork belly bowls, lemongrass chicken sandwiches, organic vegan curry bowls, homemade macarons and cucumber tofu kale salad. One of our must-trys is the Pork Belly Banh Mi – a slow braised pork belly dipped in juicy coconut sauce, shallot and veggies.
To top it all off, we cannot forget some signature Vietnamese drinks – homemade Thai iced tea, Trung Nguyen coffee and herbal hibiscus red flower iced tea. Bringing its rich food steeped in tradition to the streets of Los Angeles, Cafe Vietnam Truck was born out of one woman's passion for spreading her culture across the world. Most ingredients are also organic and non-GMO. This truck will really get your mouth watering.
10. ChompChomp
Great for: On-Set Catering, Huge Events, Corporate Catering, Vegans & Vegetarians
Cuisine: Tacos, Sandwiches, Savory, Asian Fusion, Vegetarian
ChompChomp offers just the most perfect blend of Asian fusion cuisine. With fried Korean dumplings, garlic turkey and Korean tacos, this food truck takes inspiration from all over the world and combines them into a single menu that is sure to please.
The most unique offerings include the 100% vegetable mondu dumplings (and yes – they're vegan friendly!), the honey-glazed chicken bowl covered in homemade oriental sauce, and the tacos with corn tortillas dressed with Korean Slaw and dipped in the special Asian sauce recipe. With so many Asian-style twists to classic Mexican dishes, ChompChomp sure gives the Los Angeles community something to chomp on.
11. Go Fusion N Grill
Great for: On-Set Catering, Huge Events, Corporate Catering, Vegans & Vegetarians
Cuisine: Latin Fusion, Burgers, Savory, Vegetarian
Craving some Latin and Asian fusion cuisine? We have got you covered. The combination of Latin and Asian cuisine comes with several delectable delights that you do not want to miss. Our favorite is the Mandarin Chix Salad, the only salad you will find topped with Asian crispy noodles and Mandarin oranges, served with delicious teriyaki chicken and steak.
One of Go Fusion N Grill's best sellers is the Quesiyaki, a play on the words quesadilla and teriyaki. If you are thinking of teriyaki chicken mixed with Mexican cheese, cilantro, spicy sriracha, avocado, and homemade teriyaki sauce to top it all off, you are absolutely right. No wonder their customers keep coming back for more!
12. Berlin Food Truck
Great for: On-Set Catering, Huge Events, Corporate Catering, Weddings
Cuisine: German, Sausages, Grilled Cheese
Imagine the sights and sounds of Berlin. What comes to mind immediately? The Berlin Food Truck harks you to an all-authentic Berlin experience with its high-quality grilled cheeses and hot dogs.
Ranging from plain grilled cheese to crazy delightful flavors like pastrami, patty melt, kale, and more, there is something this food truck has to offer everyone. Whether you like your hot dog topped with homemade mac n' cheese and parsley or homemade beef chili, these sauces will reinvent your hot dog experience. And if you're just like us and enjoy some appetizing mixes, you have got to try the Tofu Currywurst Combo (and its Garlic Fries) and the classic Munich Combo.
13. The Falafel Factory
Great for: On-Set Catering, Fundraisers, Corporate Catering, Vegans & Vegetarians
Cuisine: Mediterranean, Falafel, Vegetarian
Looking for some signature Mediterranean cuisine to fill your tummy? The Falafel Factory boasts some of the best falafels in town. When Miriam and Nael set out to share the delicious Mexican cuisine with the Los Angeles community, they wanted to make sure that it would not only be delicious but also accessible to everyone. That is why their falafel is made from scratch, vegan and 100% gluten-free.
With seasoned beef kofta, chicken kabob, vegan chicken shawarma, falafels drizzled with tahini sauce and The Falafel Factory's signature secret sauce, and hummus and pita dip, there is something on this menu for everyone.
Best American Classic Food Truck Catering in Los Angeles
14. Richeeze
Great for: On-Set Catering, Fundraisers, Corporate Catering, Weddings
Cuisine: Fries, Sandwiches, Grilled Cheese, Vegetarian
If you are looking for the tastiest sweet potato fries, sandwiches, and grilled cheese, you have come to the right place. Richeeze is most well-known for reinventing the grilled cheese sandwich with new jalapeño flavors – yes, you read that right!
And trust us when we recommend adding their classic Tomato Soup and Mac 'n' Cheeze Nuggets to the mix. With these mouth-watering delights, you will be sure to come back for more!
15. The Lime Truck
Great for: Family Events, Corporate Catering, Vegans & Vegetarians, Weddings
Cuisine: Mexican, Organic, Tacos, California Cuisine, Asian Fusion
One of the champions of Food Network's Great Food Truck Race, The Lime Truck is a Los Angeles favorite. Having been in business for over 12 years, Daniel Shemtob sure knows what he is doing with serving the most delicious food items that will satisfy your taste buds and have your mouth watering with just one bite.
This Mexican-style California cuisine is unlike any other fusion cuisines you have ever tasted. Boasting Aspen Ridge marinated sweet and spicy steak, wild-caught ahi with cabbage slaw, Naked Truth marinated chicken with chipotle honey slaw, and so much more, their menu is truly a sight to behold. Not only will you get your cravings satisfied at The Lime Truck, but you will also be craving these delectable meats for days to come.
16. The Lobos Truck LA
Great for: Corporate Events, Private Events, and Large Events
Cuisine: American Classics, Comfort Food, Burgers, Vegetarian
Looking for some American classics while in the heart of one of America's greatest cities? Think California-style comfort food – burgers, beef patties, mac 'n' cheese, fries and so much more.
If you have never been to The Lobos before, you have got to try the Big Lobos Burger, which contains a 1/3 lb. American-Kobe beef patty with signature jalapeño ranch and melted cheddar cheese. The Heart Attack Wachos was named in the spirit of these delicious waffle fries, an original creation that may become one of Los Angeles' most famous food items in several years to come. Featuring a crispy skin roasted lechon pork belly, signature Lobos diablo sauce, jalapeño ranch, caramelized onions, sesame seeds and scallions, The Lobos' customers just cannot get enough – and neither will you!
17. Messi Burgers
Great for: On-Set Catering, Fundraisers, Corporate Catering, Weddings
Cuisine: Burgers, Sandwiches, Wings
Ready to stuff your face with the City of Angels' tastiest burgers, sandwiches and scrumptious wings? From Andouille chicken sausage and ground beef patty (all of which are customizable with a wide variety of delicious toppings) to French fries seasoned with Messi's special seasoning blend, there is something on this menu for everyone to enjoy.
And while you are at it, do not forget to try the food truck's special Messi Fries – topped with house-made chili, cheese, sour cream, Pico de Gallo, and jalapeños. This is the Messi Burgers' signature dish that has tourists from all over the world coming back for seconds.
18. Poutine Brothers
Great for: American Classics, Fries, Tacos, Burgers, Poutine, Sliders
Cuisine: On-Set Catering, Huge Events, Corporate Catering, Vegans & Vegetarians
Los Angeles may boast American classics, but nobody does Canadian staples like Poutine Brothers. Updating traditional preparation methods that were used in kitchens all over Canada to suit the modern foodie's tastes, everything on the menu is aromatically designed to get you salivating.
Yes, I'm talking about braised beef short ribs and chives, and smoked pork dipped in scrumptious brown gravy. The Chicken tikka masala with fried chicken skin and cilantro brings fusion to a new level. The iconic Hangover is made with tater tots, cheese curds, fried egg and ham, and a drizzle of maple syrup and chives. And so much more!
19. Baby's Badass Burgers – LA
Great for: Corporate Catering, Large Events, and Weddings
Cuisine: American Classics, Fries, Burgers
Another American classic food truck that you have got to check out is Baby's Badass Burgers. With their notoriously delicious gourmet burgers that are just the right mix of rich and savory, it is no wonder that this food truck has gathered a bunch of enthusiastic, die-hard fans that swear by it.
Owned and run by female entrepreneurs, their menu also features an all-female cast, such as Original Beauty, All American Girl, She's Smokin!, The Other Woman, The Good Wife, The Bombshell, and Cover Girl, the tastes in these famous burgers are equally iconic. With Angus beef patties served on King's Hawaiian Rolls and topped with the Baby's Badass Burgers special sauces, nobody else does it like the BBB. One bite will have you coming back for more!
Best Dessert Trucks for Los Angeles Food Truck Catering
20. LA-Donut
Great for: On-Set Catering, Huge Events, Corporate Catering, Weddings
Cuisine: Dessert, Donuts
Craving some of the best sweet treats in the industry? LA-Donus has got exactly what you need. Created by one lady who quit her 9 to 5 job to follow her dessert-filled passion, she made her favorite end-of-the-meal delights accessible to anyone in Los Angeles.
Whether you are looking for chocolate glazed donuts, churros drizzled with caramel, donut sundaes, Ghirardelli chocolate syrup toppings, or cinnamon toast crunch churro donuts, there is something in this food truck for you. Not only will it satisfy your sweetest and wildest cravings that taste like candy heaven, but it will also hark you back to your youth – when the only care you had in the world was which ice cream flavor to pick.
21. Wings n Waffles
Great for: Fancy Affairs, Family Events, Huge Events, Weddings
Cuisine: Chicken and Waffles, Comfort Food, Brunch
Take comfort food to a whole new level with this food truck that specializes in chicken and waffles. Yes, you heard that right – chicken AND waffles. Mix classic Belgian waffles with jumbo party wings and throw in a mix of eggs, sausage, bacon, hash browns, fresh strawberries and syrup, and you will get the signature combination that makes Wings n Waffles one of the best food trucks in town.
Created in 2012 to serve you your favorite comfort food no matter where you are, their crispy wings and savory waffles are, as their most enthusiastic fans say, to die for.
Injecting life and buzz into your event, renting the right food truck can make your event so much more memorable for your guests.
At first thought, it may seem relatively more complicated to rent a food truck compared to other options. However, you'll soon see that it is actually quite straightforward and well worth the effort! In this section, we will walk you through all the things you should consider when it comes to booking food truck catering.
And when you're ready, use a food truck booking service like Roaming Hunger. Based in Los Angeles, they know all the best food trucks for catering, including the ones mentioned above.
Decide on your budget
Similar to traditional catering options, you'll first have to decide on your budget.
Food truck catering costs typically range from $10 to $35 per guest, so it will be helpful to have an estimate of the number of people to expect at your event.
However, one of the many advantages of opting for food truck catering is that you can have some flexibility over the number of portions of food to be served, since the food is prepared on the spot!
Here's a helpful breakdown, courtesy of Roaming Hunger's guide to food truck rental prices:
One of the biggest factors is the type of food to be served at your event. A dessert truck serving ice cream or a coffee truck will cost less than a food truck providing mains, sides and drinks. Nevertheless, you can still choose inexpensive yet tasty fare like tacos, hot dogs and BBQ. If you have a larger budget, you can go for more trendy food trucks that serve organic or fusion cuisine that use more expensive ingredients like lobster and beef.
Since Los Angeles is a busy metropolis, where labor, food ingredients, and permits are typically more expensive, you can expect food truck catering to be more expensive than in other major cities.
Decide on the number of food trucks
Again, it would be very helpful to have an estimate of the number of attendees at your event.
If you have a large event, you should also consider if everybody will be eating at the same time. To avoid any frustration caused by waiting in line for a long time, we recommend that you consider renting one food truck per 150-200 attendees.
Having multiple food trucks is also a great way to add more variety to the food menu on offer, improving the satisfaction of your attendees.
It is also a good idea to speak to the food truck business to share your attendee estimates as well as to get a sense of how many customers they can serve per hour.
Decide what menu and cuisine options you want
As you can see from the 20+ LA food truck catering options above, there are lots of mouth-watering options catering to a wide range of palates.
Food trucks will typically give you a catering package based on your budget and the number of eaters. While some food trucks will give your attendees choices such as protein and side options, others might give you a one-item menu. Menus are designed to make the service fast, so your attendees get their food quickly.
If you have specific cuisine options in mind, such as a Mexican food truck, or a BBQ truck, a site like Roaming Hunger can narrow down the field from the get-go.
Do not forget to think about your attendees' dietary restrictions too! Does your guest list include people requiring vegan or gluten-free options?
Some food trucks may even be willing to add specialized creations exclusive to your event! That is another great way to elevate your event, and will surely delight your guests.
Check food truck regulations
According to Los Angeles County rules, food trucks must follow all local rules on land use, and they are not permitted to expand operations in a way that blocks the sidewalk.
Additionally, every approved food truck in Los Angeles County should have a Letter Grade and a certification sticker indicating that it is a permitted food facility.
If your event is on public property or at a park, make sure to pull a city permit, especially if it's a city like Santa Monica or West Hollywood. If your city is on private property, you probably don't need a permit. You can always check your city's local government website to see what regulations apply. And if you do need a permit, don't worry, they are generally easy to get.
Decide on the location of your food truck
Last but not least, you'll want to choose a thoughtful location for your food truck(s) at your event, and make the necessary preparations.
First, you'll want to make sure your event location can host food trucks. As described in the section above, some locations, such as a park, may require a city permit. Permits are generally easy to obtain.
The truck will also need a proper parking space. This means no inclines such as a hill, and a space where the truck can park (no low-hanging branches, etc.)
Here are a few other pointers:
Station your food trucks in a visible location (e.g. around the perimeter) such that your attendees can easily survey their options at a glance
Consider providing picnic or folding tables at a nearby site for your attendees to enjoy their meal
Set up a cutlery and napkins station so that your guests won't interrupt the food truck servers with their requests
Provide adequate garbage bins: overflowing bins are such an unwanted eyesore!
Now that you have everything you need to know about food truck rentals, go forth and make your next event a roaring success!
Hungry yet?
There you have it – the top 21 food trucks in Los Angeles. With so many options to choose from, you will never run out of delicious, scrumptious new food to try out. And for most of these, we are sure that you will take only one bite and not need to venture further – you will definitely be back for more!
There is no ads to display, Please add some