In the spirit of it being Flashback Friday, and the 4th of July being right around the corner, we are about to look back at FoodTruckr's top party food ideas for the — you guessed it — 4th of July!
Whether you are running a food truck, sit-down restaurant or are just trying to rock your 4th of July BBQ, make sure to include these top party food ideas during the holiday.
Without further ado, let's unleash some Flashback Friday action.
Sign up to receive the FoodTruckr Newsletter and we'll throw in our free guide: 6 Free Social Media Tools to Get People Talking About Your Food Truck.
Flashback Friday: Looking Back At FoodTruckr's Top Party Food Ideas For The 4th Of July
Amazing Party Food Ideas For 4th Of July
"Beer Brats

When it comes to the ultimate party food ideas, beer brats have to make the list. Unlike normal bratwursts that you simply throw on the grill (side note: they are still very satisfying to the taste buds), beer brats are cooked in beer, onions and peppers before finding their way to the grill.

In terms of pure flavor, this party food idea will be the life of your 4th of July party.

Red, White And Blue Beverages

The sky is the limit with this party food idea. Whether you are wanting to make an adult beverage, or a drink that all of the kids will love, red, white and blue beverages will spice up your 4th of July party."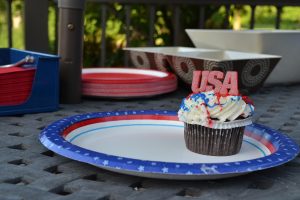 While this was just a preview of some amazing party food ideas for the 4th, you can see all of the food ideas by reading the rest of the article here.
Classic Party Food Ideas To Enjoy This 4th Of July
"Hamburgers And Hot Dogs

When it comes to a BBQ, especially a BBQ on the 4th of July, you can never go wrong with hamburgers and hot dogs. After all, hamburgers and hot dogs scream American food.

To take this party food idea up a notch, don't be afraid to add bacon, or anything you think would go great with a hamburger or hot dog.

S'mores

S'mores might be a bit tricky when it comes to party food ideas, but as long as you have some form of fire, your 4th of July party is going to be rocking — because everyone loves s'mores.

The combination of marshmallows, chocolate and graham crackers is — dare I say — legendary."

Make sure to follow this link to dig your teeth into more classic party food ideas for the 4th of July!
Looking to build a new custom food truck? Check out this link for more details!
To dig your teeth into what FoodTruckr has to offer, make sure to like us on Facebook and follow us on Twitter, and also make sure to check out more content that we bring to the table.
There is no ads to display, Please add some