Just like so many other places, Portland has its fair share of food trucks, and if you consider yourself a food lover, then we have three food trucks that you need to try immediately.
While there are so many delicious Portland food trucks, we can't highlight them all, although we wish that were the case.
Without further ado, make sure to check out these food trucks of Portland ASAP.
Portland Food Trucks That Foodies Need To Try Immediately
Sign up to receive the FoodTruckr Newsletter and we'll throw in our free guide: 6 Free Social Media Tools to Get People Talking About Your Food Truck.
If you are a coffee lover of any kind, then No Brakes Cafe & Espresso might be your one-stop shop — and new favorite coffee shop, if you will — for all things coffee.
According to nobrakescafeandespresso.com, "No Brakes Cafe & Espresso is a mobile food and beverage truck. We go to various events and provide visitors with tasty food and delicious beverages.  We have a few events we visit, and we can come to your event as well.  Reach out on our contact page to schedule a visit and be sure to take a look at our menu.  We can customize our offerings to your needs as well."
On top of getting a boost with their espresso, foodies might also be rather interested in their menu. After all, No Brakes Cafe & Espresso serves up winners like a breakfast burrito, quiche and so many other amazing meals. Check out their Instagram page for proof, and try your best not to drool.
Looking for Food Trucks For Sale? Check out this link for more details!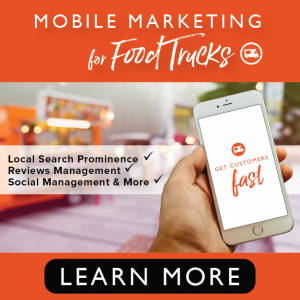 If you are a fan of tots (especially tots that are loaded with deliciousness), then On Tots might be the first stop you make when you are in Portland next.
Here's a little bit about this food truck (via ontots.com):
We are a mobile food company specializing in Tots. Yes, Tater Tots and we put lots of delicious stuff …On Tots.

Check out our menu for some of our most popular dishes and call us for your next event or follow us on Facebook to see where we are cooking next.

Based in Portland Oregon, you will find us in West Side locations, including Hillsboro and Beaverton, for lunch during the week, and special events throughout the summer.
Needless to say, the On Tots menu is ridiculous in all the right ways. From Loaded tots to Totchos to Buffalots to … well, we will just stop there, because we aren't trying to make you too hungry, this place is flooding with amazing tot meals.
If you are wanting to see those food pics, then make sure to check out their Instagram page.
Looking to take your food truck business to the next level? If so, then The Food Truck Growth Kit has your name written all over it!
RELATED: Ways To Spice Up Your Food Truck Journey
A quick story on Potato Champion (via potatochampion.com/about/):
In 2008, Potato Champion opened it's window at the corner SE 12th and Hawthorne, establishing itself as one of Portland's premier spots for late night food. Originally serving a limited menu of hand cut, twice fried Belgium style fries, a variety of house made dipping sauces, and our own version of the Canadian classic, Poutine, we have let our menu expand into an assortment of inventive fry related dishes. We pride ourselves in using only the highest quality ingredients and strive to keep an inventive menu that combines tastes from all around the globe with the one of the most popular foods in the world, the french fry.
Potato Champion has some amazing-sounding fries, to say the least. For example, Satay Poutine, Palak Paneer Fries, PB&J Fries and so many others can all be had at this Portland food truck.
We promise we aren't trying to make you hungry, but foodies need to check out the Potato Champion Instagram page. These pics alone might make you book your trip to Portland in the near future.
While there are so many amazing food trucks in Portland, we encourage you to try the three above the next time you are in the area. Don't just stop there, though, make sure to try every food truck you see. Let the foodie in you come out.
Happy eating!
Want to learn how to build a subscriber list for your food truck business? One of our managing partners here at FoodTruckr has put together an AMAZING FREE GUIDE that will teach you everything you need to know about getting started with Messenger Marketing! Click here to get your free guide.
If you liked this article, then we encourage you to share your feedback, advice, questions and/or stories below!
Looking to build a new custom food truck? Check out this link for more details!
To dig your teeth into what FoodTruckr has to offer, make sure to like us on Facebook and follow us on Twitter, and also make sure to check out more content that we bring to the table.
There is no ads to display, Please add some