Food trucks are taking over the scene. They really are. If you are a fan of food, then that is a great thing. If you are looking to get involved in a great industry and run your own business, then that is also a great thing.
FoodTruckr had the pleasure of speaking with Julie Byers of A Picnic Place, which can be described as a catering and mobile food business. A Picnic Place is located in Mounds, Oklahoma, and it's bringing the idea of a picnic to a completely different level.
According to the mobile food truck's website, "The mission of A Picnic Place is to provide delicious, nutritionally balanced, attractively presented food at a good value for each and every customer." After speaking with Byers, it appears that A Picnic Place is living up to its mission — and then some.
In this fine industry, everyone has a great story to tell, and Byers is certainly no exception to the rule.
"I have spent nearly 30 years in the foodservice industry, in some form or fashion," Byers said. "From dining room management to foodservice sales to culinary instruction. I have wanted to have my own sandwich shop for a long time. Not long after college graduation, a lunch-only place that my mom and I ate at a lot was for sale and I wanted to buy it, but didn't at the time. Fast forward 22 years and the dream became a reality in the form of a trailer. I was at a crossroads with my current job and had the money to start it up, so I took a chance."
If you ever venture to A Picnic Place, going with the Chicken Avocado Flatbread might be your best option, and it was actually the food item that Byers pointed out when we asked her what her No. 1 sold food item was.

"This changes as the menu does, but it has become a relatively new item, the Chicken Avocado Flatbread. It is a large garlic naan topped with pepper jack cheese, grilled chicken, diced tomatoes and avocados, Chipotle Bacon Ranch sauce, and garnished with cilantro sprigs."
Just to get a taste (or better yet, a look) at what A Picnic Place has to offer, Byers deemed the three meals below A Picnic Place's top three items.
Chicken Avocado Flatbread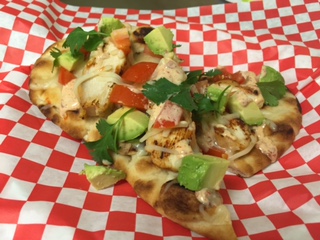 Pepperoni Pizza Grilled Cheese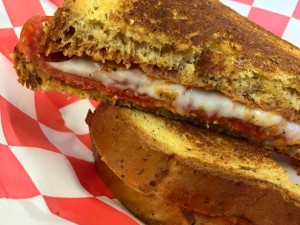 Club Wrap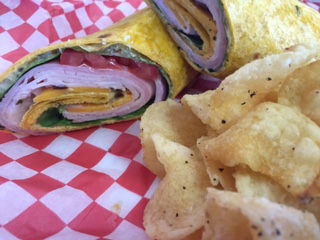 If you are a fan of fall, then today is a big day for you. After all, it just so happens to be the first day of fall. As food truck owners likely already know, it's important to change up the menu as the seasons change, and Byers follows those guidelines as well when it comes to A Picnic Place's fall and winter menus.

"I am constantly changing my menu based on what is selling. For the seasons, I add more salads and cold items in the summer and switch a cold roast beef sandwich to a French dip. I also do soups when it gets chilly."
Now, back to fall. Byers brings some special fall items to the mix. With that said, the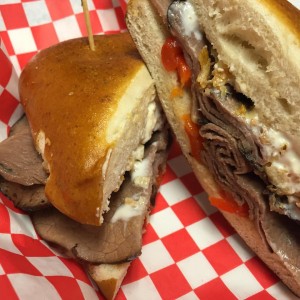 temperatures are still rather high where she lives, so although it might be the first day of fall, it doesn't quite feel like it in the temperature department — well, at least not in Oklahoma.
"It will be in the high 90's as far as temperature here today, so I haven't switched to fall items yet, but I am thinking about a Philly cheesesteak flatbread. I will do a turkey sandwich with a horseradish cranberry sauce around Thanksgiving."
Mobile kitchen owners, is there one item on your menu that you would recommend over everything else? Well, if someone could order one meal off of A Picnic Place's menu, the "Julie's Favorite" seems to be the go-to option, according to Byers.

"The "Julie's Favorite" because it is simple and delicious. It is a hot ham and Swiss on marble rye bread. No strange ingredients, it is hot and gooey, and the bread is thick and toasty."
There are so many reasons to join the food truck industry, and flexibility and scheduling come up as two great options to join this industry all of the time. In terms of Byers' favorite part about being a food truck owner, she went with the flexibility.

"Flexibility. I am a mother of two children and a wife. This gives me the flexibility to work around them. I also love being able to make my own decisions about the business. It is my way…"
If you are a prospective food truck owner and are looking to eat up as much advice as possible, then Byers has you covered, as she dropped some great food truck knowledge on us.
"Do your homework about laws, restrictions, fees, etc. in your area. Make sure you have AT LEAST one year's worth of salary in savings (or another source of income) to support yourself while you get going. It takes a while to become profitable. Work HARD — this is not an easy venture. Have FUN — when your truck is rockin', there is nothing more fun!"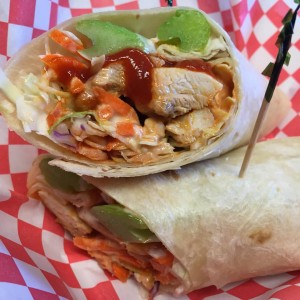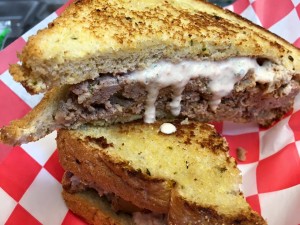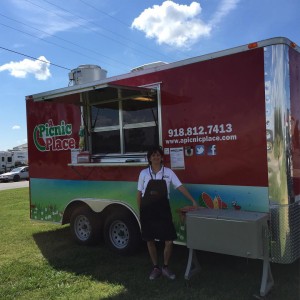 There is no ads to display, Please add some