Our latest FoodTruckr Hero just celebrated their fourth birthday.  During those four years, they've won over the hearts of nearly 20,000 Twitter followers and more than 25,000 Facebook fans with a constantly revolving menu and a commitment to trying out new things—and that means they have plenty of experience that other trucks can learn from.  Meet King of Pops.
This awesome truck does a whole lotta things right, but today we want to focus on their creative social media updates that are both eye-catching and efficient.  As you know, it's super important to update your location regularly on Facebook and Twitter so that fans can find you easily.  But do you know how to make sure your updates stand out from the other trucks and restaurants your fans are following?
King of Pops does.  They post multiple updates every day, and each new post almost always includes a photo of their menu and a message with their location and the hours they'll be there.  Check out one of their recent updates: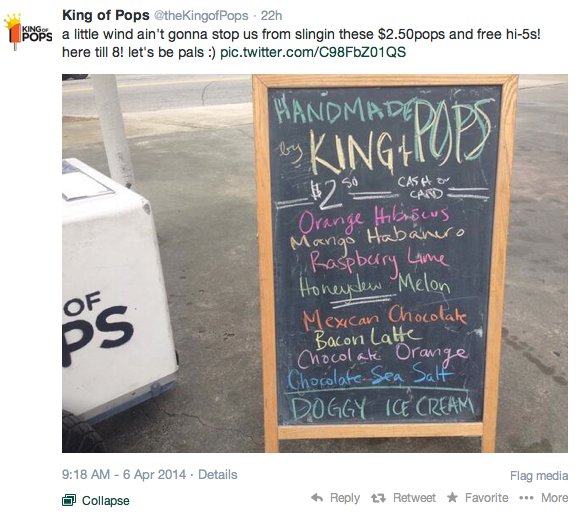 What do you notice first?  It's gotta be the photo of that colorful, eye-catching sign.  The menuboard photo serves to attract a fan's attention while he or she is browsing through Twitter.  And once fans stop to see where King of Pops is at, they can quickly see exactly what these FoodTruckrs are serving!  After they've checked out the menu for the day, fans can then read the friendly, fun update that accompanies the photo to find out where King of Pops is serving and how long they'll be there.
Because most trucks opt to post photos of their daily specials and popular menu items, photos from King of Pops stand out by being different.  Though this method wouldn't necessarily work for a truck with a large, stagnant menu, it's a great strategy for a truck like King of Pops where there's only one basic item and the flavor menu changes daily.
Though King of Pops shows off their menu more often than photos of actual popsicles, they can still incite cravings in fans simply because of the creative recipes they put together.  Check out this menu photo: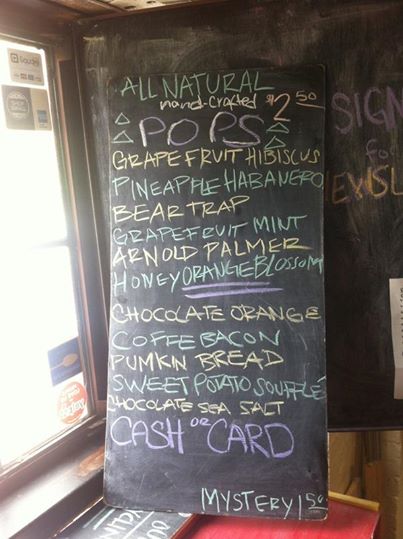 Grapefruit Hibiscus?  Coffee Bacon?  Sweet Potato Souffle?  Pineapple Habanero?  These aren't the regular old popsicles you can buy at the supermarket, folks.  And at just $2.50 a pop (see what we did there?), anything on the menu is well worth the cost.  We also love their special offer for a mystery pop for just $1.50—you can't go wrong there!
By keeping things fresh and sharing news with their fans early and often, King of Pops has developed a simple social media strategy that any truck can easily implement and benefit from.  Awesome work, King of Pops!  You'll always be the rulers of our hearts.
images from King of Pops Twitter Page
There is no ads to display, Please add some