Have you ever wondered how you can grow and scale your food truck business? If so, then you are in luck, because today we will be highlighting an interview Jeremy Adams, co-founder of Prestige Food Trucks, did on the podcast, Create Your Own Life.
You can catch the entire interview here!
And now, since it is also Thursday, we couldn't leave FoodTruckrs hanging, so we will be throwing it back to an article that specializes in making your food truck business better.
Check out the preview below, and then make sure to click on the link so you can read all of the advice and tips from it.
Throwback Thursday: Expand Your Business to Events
Sign up to receive the FoodTruckr Newsletter and we'll throw in our free guide: 6 Free Social Media Tools to Get People Talking About Your Food Truck.
Preview:
In last week's "How to Run a Food Truck" lesson, we helped you write the recipe for future success by examining a popular goal-setting approach and providing you with 30 questions you should ask yourself to determine what you want out of your business. Though we're sure that our readers had all kinds of different answers, we're willing to bet that many of you probably identified events, catering, or an expansion as the next logical step in your truck's progression—so those are the topics we'll be covering for the next few weeks!

Today, we'll be talking about everything that food truck owners who want to get into events need to consider. Serving at festivals and events can be a very lucrative way to expand your food truck's profits and potential fanbase, so they're a great option for any FoodTruckr who wants to grow his or her business.

Let's start out by learning how to find the best events for your truck and looking at what it takes to get your truck's application accepted by an event planner.
Looking for Food Trucks For Sale? Check out this link for more details!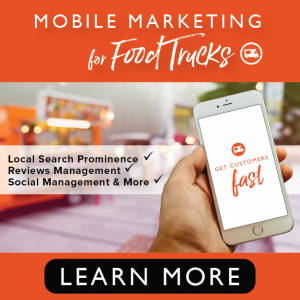 Yet another sneak peek from the article:
Preparing for the Big Day

Figuring out which events to apply to and sending out applications are the first steps in the process—but you're also going to need to do some serious prep work on your own before you'll be truly ready to take on the demands of serving a big crowd at a major event. Serving people at festivals and events is an entirely different game than what you'll encounter during even the busiest lunch hour rush, so it's important to really take the time in advance to plan, practice, and prepare.

Use the four following strategies to get yourself and your team ready for this exciting new opportunity!

1. Develop a Menu Plan

Some food trucks change up their menus for special events, while others continue to offer the full line. Either option is fine, but you should think carefully about which path makes the most sense for your truck. If you continue to offer your regular full menu, you won't risk disappointing any of your fans who want their favorite dish—but you'll also need to have more different ingredients on hand and cooking times could take a little longer. On the other hand, offering a reduced menu simplifies things in the kitchen big time—but regulars may leave if they can't get their usuals, and you also won't get to show off all the awesomeness you have to offer to new fans.
About to join the food truck industry? If so, then make sure to check out the How to Start a Food Truck: The Definitive Guide.
Of course, there's also a third option that we've seen before that we think is an effective way to get the best of both worlds: continuing to offer your regular menu, but also offering a special event-exclusive menu or meal deal that features amazing prices. With this option, you'll still have everything on hand so that regulars can order their favorites and so that newbies can see the full range of what you have to offer—but the event special will be so enticing that the majority of people will just order that, saving your chefs valuable time in the kitchen.
Want to learn how to build a subscriber list for your food truck business? One of our managing partners here at FoodTruckr has put together an AMAZING FREE GUIDE that will teach you everything you need to know about getting started with Messenger Marketing! Click here to get your free guide.
If you liked this article, then we encourage you to share your feedback, advice, questions and/or stories below!
Looking to build a new custom food truck? Check out this link for more details!
To dig your teeth into what FoodTruckr has to offer, make sure to like us on Facebook and follow us on Twitter, and also make sure to check out more content that we bring to the table.