If you have ever owned your own business, and especially if you have owned and operated a food truck, then you know how tough the daily grind can be.
Not only do you have to worry about making enough money to keep your truck in business but you also have to be a beast in the kitchen. Of course, your customer service game needs to be flawless if you plan on retaining customers in this day and age. Plus, social media and marketing needs to make an appearance, and a rather loud one at that. Once you have employees, then you have to start worrying about making enough money to pay them.
The food truck industry can be brutal, but it is still a very fulfilling industry for anyone who wants to be a chef. And for those folks who are currently battling it out in this industry on a daily basis, we will leave you with this: Never stop following your dreams!
Okay, now let's get to the reason why we are all here.
Enter inspiring quotes for food truck owners.
Sign up to receive the FoodTruckr Newsletter and we'll throw in our free guide: 6 Free Social Media Tools to Get People Talking About Your Food Truck.
15 Inspiring Quotes That Will Help Mobile Kitchen Owners Conquer The Daily Grind
15. "Success consists of going from failure to failure without loss of enthusiasm." — Winston Churchill
14. "Hustle beats talent when talent doesn't hustle." — Ross Simmonds
13. "There is no royal, flower-strewn path to success. And if there is, I have not found it. For if I have accomplished anything in life, it is because I have been willing to work hard." — Madam C.J. Walker
12. "What you lack in talent can be made up with desire, hustle and giving 110 percent all the time." — Don Zimmer
11. "I can't imagine a person becoming a success who doesn't give this game of life everything he's got." — Walter Cronkite
10. "Twenty years from now you will be more disappointed by the things that you didn't do than by the ones you did do. So throw off the bowlines. Sail away from the safe harbor. Catch the trade winds in your sails. Explore. Dream. Discover." — Mark Twain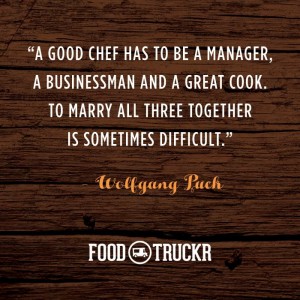 9. "Once you decide on your occupation… you must immerse yourself in your work. You have to fall in love with your work. Never complain about your job. You must dedicate your life to mastering your skill. That's the secret of success… and is the key to being regarded honorably." — Jiro Ono
If you are about to join the food truck industry, then make sure to check out the How to Start a Food Truck: The Definitive Guide.
8. "We are what we repeatedly do. Excellence, then, is not an act, but a habit." — Aristotle
7. "Although the skills aren't hard to learn, finding the happiness and finding the satisfaction and finding fulfillment in continuously serving somebody else something good to eat, is what makes a really good restaurant." — Mario Batali
6. "Where there is a will, there is a way. If there is a chance in a million that you can do something, anything, to keep what you want from ending, do it. Pry the door open or, if need be, wedge your foot in that door and keep it open." — Pauline Kael
5. "There are many times in my life, when I could've thrown in the towel. Many times in my life when I was on the floor. And when you're on the floor, never allow anybody to pick you up. It doesn't matter how long you stay there, make sure you pick yourself up and dust yourself down. Whatever happens, whether you go home today or you don't go home today, that's irrelevant. What's relevant, is you take the knowledge from the experience and you grow as a person." — Marco Pierre White
4. "The important thing is not being afraid to take a chance. Remember, the greatest failure is to not try. Once you find something you love to do, be the best at doing it." — Debbi Fields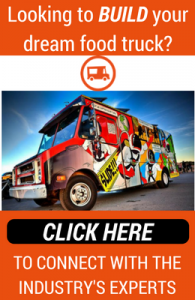 Looking for Food Trucks For Sale? Check out this link for more details!
3. "Do not wait; the time will never be 'just right.' Start where you stand, and work with whatever tools you may have at your command, and better tools will be found as you go along." — Napoleon Hill
2. "I've been a cook all my life, but I am still learning to be a good chef. I'm always learning new techniques and improving beyond my own knowledge because there is always something new to learn and new horizons to discover." — Jose Andrés
1. "When you have made as many mistakes as I have, then you can be as good as me." — Wolfgang Puck
RELATED: 5 Ways Food Truck Owners Can Ensure Success In The Mobile Kitchen Industry
Looking to build a new custom food truck? Check out this link for more details!
To dig your teeth into what FoodTruckr has to offer, make sure to like us on Facebook and follow us on Twitter, and also make sure to check out more content that we bring to the table.
There is no ads to display, Please add some