Editor's Note: Today we're excited to present a post from Jeremy Adams. Jeremy is the President/CEO of Prestige Food Trucks, which is the world's leading custom food truck manufacturer. In his current role as President/CEO, Jeremy manages dozens of employees, interacts with clients, and maintains a healthy relationship with all of his business partners. Since Prestige, Jeremy has launched many other successful companies.
Another season is on the horizon, which means new goals might be on the horizon as well, and even if they aren't, you are still likely chasing some of your 2017 goals.
With that in mind, we are here to help you reach your goals this fall, and we plan on helping by telling you some all-star mindsets to adopt.
Check them out below, and good luck conquering your goals this fall, FoodTruckrs.
Sign up to receive the FoodTruckr Newsletter and we'll throw in our free guide: 6 Free Social Media Tools to Get People Talking About Your Food Truck.
3 Mindsets Food Truck Owners Should Adopt To Reach Their Fall Goals
3. The Hustle Mindset
The hustle mindset is a simple concept to grasp: Don't take your foot off the gas pedal. Always be thinking of new ways to make your business better. Likewise, always be working on the things that will actually make your business better.
Three words: Work, work, work.
While fall might mean winter is right around the corner, which means the offseason is right around the corner as well for many food truck owners, that does not mean it is time to take it easy. In fact, the opposite should ring true, whether you have reached your goals for 2017 yet or not.
Now is the time to get extremely hungry — don't quit! Work like you've never worked before in hopes of shattering not only your fall goals but your 2017 goals as well.
About to join the food truck industry? If so, then make sure to check out the How to Start a Food Truck: The Definitive Guide.
2. The Anything-Is-Possible Mindset
Every business owner should have this mindset. After all, you didn't start up a business (in this case, a food truck) to be average. You started up a food truck business because you wanted to be a successful cook and have a thriving business. You think anything is possible, because with hard work, a great plan and action … anything truly is possible.
If your fall goal is to double your sale numbers from last year, then by all means go for it. Anything is possible in this industry, and you definitely need to incorporate that mindset if you plan on achieving greatness.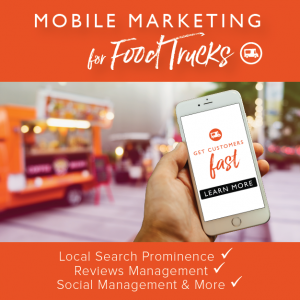 Looking for Food Trucks For Sale? Check out this link for more details!
RELATED: 3 Things Successful Food Truck Owners Give Up
1. Believing In Yourself, Your Business And Your Employees
Trust the process.
While you're at it, believe in yourself, your employees and your business. If you do that, then the sky is truly the limit — and beyond.
You can do — and be — anything you want. After all, you wanted to be a food truck owner and own your own business, and you are doing exactly that. Have faith in yourself, your plan, the process and everything relating to your business. If you do so, then you will be blown away by how much you can achieve this fall, and the rest of the year as well.
If you liked this article, then we encourage you to share your feedback, advice, questions and/or stories below!
Looking to build a new custom food truck? Check out this link for more details!
To dig your teeth into what FoodTruckr has to offer, make sure to like us on Facebook and follow us on Twitter, and also make sure to check out more content that we bring to the table.
There is no ads to display, Please add some