With 2018 nearing, many food truck owners have likely been thinking of goals for 2018. It's only natural.
With that said, we will pose this question: What are your goals for 2018?
Maybe you are still focusing in on your 2017 goals, which is completely fine.
At some point, though, you have to make your goals for 2018, and in hopes of helping you out during that process, we are about to unleash three valuable food truck goals to consider in 2018.
Spoiler alert: The three goals below are very challenging, but they can be done.
3 Valuable Food Truck Goals To Consider In 2018
Sign up to receive the FoodTruckr Newsletter and we'll throw in our free guide: 6 Free Social Media Tools to Get People Talking About Your Food Truck.
3.) Hiring Someone To Take On The Daily Operations
Now, this is arguably one of the biggest goals to hit on this list, if you will, and it's not for everyone.
After all, if you hire someone to take on the daily operations, then you are going to be doing one of two things: (1) Not cooking as much as you used to, and/or (2) bringing expansion into the mix.
With this 2018 goal, the idea is to bring someone on to take on the daily operations at your food truck so you can spend most of your time trying to open up shop somewhere else (of course, everyone's strategy is different), for it is rather tough to run a business that takes up 60-plus hours of your time per week and try to open up another one in the process.
This is a very lofty goal — expansion, that is — but so many food truck owners have done it in the past, and are continuing to do so. If this is something you have always wanted to do at your food truck business, then make it happen, and make it your 2018 goal.
Looking for Food Trucks For Sale? Check out this link for more details!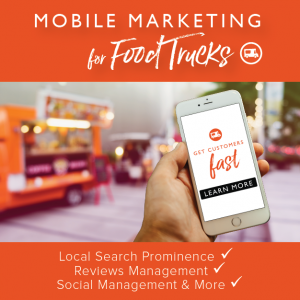 2.) Taking Your Advertising To The Next Level
While your food most certainly speaks for itself, and people will travel to your truck because they know how good it is, doing more advertising and/or marketing is never a bad idea — well, as long as the product doesn't take a hit, and as long as you have a great strategy put into place.
Therefore, 2018 might be the year you hire a marketing company to take on your marketing efforts at your food truck, or it might just be the year you get extremely serious about your social media networks in the sense that you are finally posting on a regular basis.
Nonetheless, advertising and marketing alone could help you grow your business (and gain more customers).
Looking to take your food truck business to the next level? If so, then The Food Truck Growth Kit has your name written all over it!
RELATED: The Best FoodTruckr Advice For Mobile Kitchen Owners From Last Week: Nov. 27-Dec. 3
1.) Saving Up A Year's Worth Of Salary
Now this is a lofty goal. After all, you not only have to pay yourself but your employees as well. Plus, it's not cheap to run a food truck business. The customers also need to be rolling in all of the time.
So, with that said, you don't have to save up a year's worth of salary for your goal. Instead, pick a realistic savings number. Only you know what your food truck is truly capable of, so only you know what a good goal for 2018 would be when it comes to saving up a good chunk of money.
The main point in saving up this money is, of course, to have a more comfortable living, have the funds to expand, etc. Of course, tailor this saving goal around your own food truck dreams, because that's what it's all about.
No matter what goals you decide to go with for 2018, we hope you crush said goals in the new year. We hope you see an overwhelming amount of success and make all of your dreams come true!
The three goals mentioned above are just to get your brain going in hopes of you creating goals that revolve around your food truck's situation. Use them however you see fit!
Are you currently doing any kind of email marketing or social media marketing? If so, then you should also be doing Facebook Messenger Marketing! Click here to find out more.
If you liked this article, then we encourage you to share your feedback, advice, questions and/or stories below!
Looking to build a new custom food truck? Check out this link for more details!
To dig your teeth into what FoodTruckr has to offer, make sure to like us on Facebook and follow us on Twitter, and also make sure to check out more content that we bring to the table.
There is no ads to display, Please add some