It happens to everyone.
Every once in a great while, we feel uninspired (well, hopefully that is the case, and this occurrence isn't happening more often than not). In other words, we lack inspiration. As a result, we don't do our best work. This type of unwanted occurrence happens in every industry. Yes, even the food truck industry.
Luckily, there are plenty of ways to counter this lack of inspiration, and five of those ways/strategies can be found below.
5 Strategies When Food Truck Owners Are Lacking Inspiration
Sign up to receive the FoodTruckr Newsletter and we'll throw in our free guide: 6 Free Social Media Tools to Get People Talking About Your Food Truck.
5. Think About Your Employees
Seriously, if you are unmotivated, start thinking about your employees, for they likely count on you to be the leader. It's not just your personal interests you should be worrying about if you fail/slip up from time to time — you should also be thinking about your employees. After all, if your business takes a hit, everyone will likely take a hit at this startup level, if you will.
On the other hand, if your business is doing really well, then your employees will likely thrive as well in the form of bonuses, raises, working at a great environment/business, etc.
When you are a business owner, which you are if you have a food truck business, you can no longer think like an employee, and you have to start taking everyone's interests into account as a result.
Therefore, the next time you are lacking inspiration, just think how that will affect your employees, and everyone else involved when it comes to your business.
4. Take A Break/Mini-Vacation
When you are lacking inspiration, you might be overworked, which means a break/mini-vacation is very much needed. This could come in the form of a weekend getaway, a longer trip or just taking a day off.
Being a food truck owner is tough, but you have to keep the mind, body and soul happy.
We all go through the daily grind, and we all feel uninspired from time to time as a result; however, that just might mean you need some form of break, and if the time permits, then by all means take one.
Looking for Food Trucks For Sale? Check out this link for more details!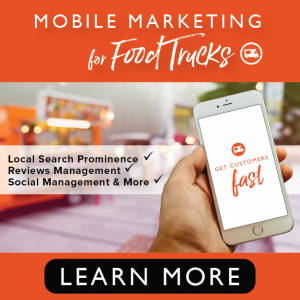 3. Revisit Your Goals (Or Make New Ones Altogether)
You might be lacking in the inspiration department because of your food truck goals. Here's the big issue: If your goals don't motivate you, then there is a problem — but it's fixable.
Either you need to revisit your goals in hopes of getting that motivation back … or you need to change them altogether (you, of course, don't want to be changing your goals up all of the time, especially if you aren't meeting them).
It's important to keep your goals in plain sight on a daily basis in hopes of not losing track of the big picture, which is making your goals and dreams come true.
Looking to take your food truck business to the next level? If so, then The Food Truck Growth Kit has your name written all over it!
2. Brainstorm Why You Are In This Funk
Why? Why are you in this funk that features you not being as inspired as you once was, FoodTruckr? You are the only one who can truly answer this question, and until you figure it out yourself, you will never be as inspired as you once was. Of course, if this is just a miniature funk as a result of being burned out, then the why might not be that extreme — you might just be overworked and need a little break, as stated above.
If it's a bigger issue, then it's important to figure out why you are feeling uninspired in hopes of getting back on track ASAP.
RELATED: 3 Ways To Incorporate A Side Hustle In The Food Truck Industry
1. Come Up With A New Plan
One of the best cures when you are feeling uninspired: Come up with a new plan altogether, one that features things that you want to do, and when you want to do them. The best part about owning your own business is the fact that you run the show.
Therefore, if you prefer entering food truck events (or doing catering gigs), and you are making a lot of money off of these things, and gaining more customers, then try to incorporate that strategy into the mix more.
Sometimes a change in the routine is all you need to gain back your inspiration, so feel free to change things up as many times as your food truck heart desires. The next time you are feeling uninspired, make sure to analyze your current plan/routine/schedule, and then make adjustments where you see fit.
If you liked this article, then we encourage you to share your feedback, advice, questions and/or stories below!
Looking to build a new custom food truck? Check out this link for more details!
To dig your teeth into what FoodTruckr has to offer, make sure to like us on Facebook and follow us on Twitter, and also make sure to check out more content that we bring to the table.
There is no ads to display, Please add some