Sit-down restaurants have their fair share of perks and downfalls. Likewise, food trucks also have their fair share of perks and downfalls. With that said, we live in a time and place where mobile kitchens are really on the rise, meaning we are seeing an abundance of food trucks everywhere we go (of course, it does depend on where you live).
While the food truck industry might be booming, sit-down restaurants will always — always! — be around. As a result, food truck owners should take a page or two out of the sit-down restaurant playbook. In other words, there are certain things traditional-like restaurants do really well, and mobile kitchens should start implementing those things, if they haven't already.
It doesn't matter who you are or how successful your business is, you can always improve. Therefore, make sure to start implementing the four things below, kitchen truck owners.
Sign up to receive the FoodTruckr Newsletter and we'll throw in our free guide: 6 Free Social Media Tools to Get People Talking About Your Food Truck.
Things Sit-Down Restaurants Do Well That Food Trucks Should Implement
The Work-For-A-Tip Mindset
Making Customers Feel Welcome Right When They Walk In The Door
Advertising
An Amazing Environment
The Work-For-A-Tip Mindset
Let's start this point off by saying this: You should always treat your customers right. There are no exceptions. With that in mind, restaurant servers will go above and beyond to please their customers in hopes of getting a better tip. This isn't a bad mindset for food truck employees to incorporate.
Why? At the very least, you will make your customers happy. However, in the best-case scenario, you will not only get a tip, but you will retain more customers as well. It's clearly not out of the ordinary for food trucks to receive tips, so why not incorporate the work-for-a-tip mindset?
Incorporating this mindset will only lead to better customer service, and that is how you retain customers in this industry. Of course, your delicious recipes might have something to do with it as well (okay, so your food is the No. 1 reason why customers keep coming back for more).

Just so we are perfectly clear, we aren't saying to pay your employees less money, we are simply saying to incorporate the work-for-a-tip mindset in hopes of quality customer service.
RELATED: Wagner's Pizza Bus Serves Up Amazing Pizzas In Fairbanks, Alaska Year-Round. Believe it or not, this food truck stays open even when the temperatures get extremely cold. You can learn more about this truck's amazing story by checking out this article.
Making Customers Feel Welcome Right When They Walk In The Door
Sit-down restaurants have a tendency to make their customers feel welcome right when they open the door — and that is a good thing. That might have something to do with the fact that many restaurants have a host, but it is still a strategy that most restaurants incorporate. Food truck owners, take notes.
If your customers enjoy their experience at your lunch truck, then there is a good chance they will venture to your lunch truck once again in the future. So, the moment someone gets to your mobile kitchen window, make them feel welcome. Ask them how their day is going. Recommend a new item. Simply put, be friendly.
Advertising
Fast food restaurants and sit-down restaurants alike are experts when it comes to advertising. No, you don't have to start doing commercials, although you can if you want, and if you have the funds.
Let's look at a fast food restaurant. On the windows of a fast food establishment, you will typically find pictures of deals, new food items and meals in general. As a result, some people might know what they want before they even step inside a fast food restaurant.
Now, there are plenty of mobile kitchens out there that have pictures of their food out in the open, but there are plenty of mobile kitchens that don't. Your No. 1 weapon is your food, so you should be showing it off as much as humanly possible.
Therefore, advertise when you can, even if it is placing pictures of your food all over your truck, handing out flyers, having a sign in front of your truck with specials on it or whatever it might be.
RELATED: November Is The Perfect Month For Food Trucks To Ramp Up Their Catering Businesses. Why is November the perfect month for food trucks to ramp up their catering businesses? Well, you are going to have to read this article to find out, but we will give you one hint: It has something to do with the weather.
An Amazing Environment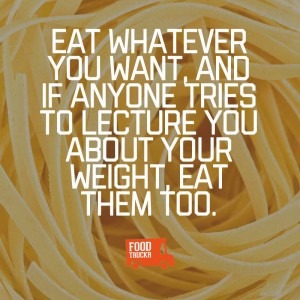 To figure this lesson out, simply look at what a sit-down restaurant like Texas Roadhouse is doing. They have a very lively environment, if you will. From the servers to the customers, people actually want to be there. The great thing about this concept is the fact that you can tailor it however you would like.
For example, if you have a Hawaiian theme, then you can make your customers feel like they are in Hawaii when they visit your truck. Or, you can simply make your environment very happy and positive — the choice is yours.
Nonetheless, you need to make your environment your own. Certain sit-down restaurants do a great job of this. For example, a place that serves New York-style pizza might play Frank Sinatra in the background, and people will naturally feel like they are in New York as a result.
Every place is different, but don't just be a bland establishment that takes an order, cooks the food and then gives said food to the customer. Make going to your food truck an experience for everyone involved.
While there are an endless amount of things sit-down restaurants do right and an endless amount of things food trucks do right, mobile catering truck owners need to start incorporating the four points above in some fashion. What do you have to lose?
To dig your teeth into what FoodTruckr has to offer, make sure to like us on Facebook and follow us on Twitter, and also make sure to check out more content that we bring to the table.
There is no ads to display, Please add some