A business owner has so many different things to juggle, but there is one thing that tends to go under the radar, and that is creating a dream team.
So, we pose this question: Have you created your dream team yet, food truck owners?
To get a better idea of this concept, and to also hear some other invaluable business tips on top of that, let's focus in on an interview Jeremy Adams, co-founder of Prestige Food Trucks, did with Onward Nation.
You can check out the interview here, and you're going to want to if you plan on gaining knowledge that could take your food truck business to the next level.
As mentioned in a previous article, Adams was featured in Forbes' 30 Under 30 list in Manufacturing and Industry, so he clearly knows a thing or two about business, and the food truck industry, as he is the co-founder of Prestige, a company that specializes in custom food trucks, concession trailers and mobile kitchens.
Sign up to receive the FoodTruckr Newsletter and we'll throw in our free guide: 6 Free Social Media Tools to Get People Talking About Your Food Truck.
Finding Your Dream Team With Co-Founder Of Prestige Food Trucks Jeremy Adams
Looking for Food Trucks For Sale? Check out this link for more details!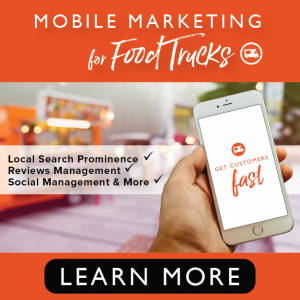 Looking for more advice when it comes to taking your goals, dreams and/or business to the next level? Make sure to check out the three articles below (a preview and link will be provided for each article).
3 Ways For Food Truck Owners To Gain More Money
Preview:
You might have tried this tactic already, and maybe you haven't. Let's start this twofer off with the selling-product-in-bulk aspect.

We aren't breaking new ground here. Plenty of restaurants sell their food in bulk, or make it accessible, if you will, outside of their business. While it might be hard to sell your food in stores, and you might also not want to take that drastic of a measure, you can still sell your food in bulk.

As an example (and one we have used in the past), if your food truck business specializes in, say, jam, you can sell your jam in jars to your customers on top of making food as customers order it. The key is moving more product, which will lead to an increase in revenue.
3 Things Food Truck Owners Typically Have To Give Up
Preview:
If you want to make it as a food truck owner, then you probably have to take a step back on your social life. This means going out on the weekends less. In general, you should be doing things to make your business better during your free time, whether that means updating menus, coming up with social media strategies, planning the employee schedule for the upcoming week, finding more catering gigs or whatever it might be.

While every business is different, and you might have less to do in the beginning depending on how much you delegate, every business owner should be pretty hands-on in the beginning. This will ensure that your vision is being created, and your food truck operations are running smoothly. Not to mention, you joined this industry because you wanted to be a cook, and that is a daily job when your truck is open.
About to join the food truck industry? If so, then make sure to check out the How to Start a Food Truck: The Definitive Guide.
3 Ways To Hold Yourself Accountable To Your Food Truck Goals In 2018
Preview:
The reason why this strategy could work for you: If your goals are in a common area, such as on the fridge or mirror in the bathroom, then you will always see your goals, and it will be hard to escape them as a result.

So many people make these awesome goals around the start of a new year … but then they forget about them shortly after because … well, life happens, and the goals get put on the back burner. If you are constantly reminding yourself of these goals by having them around on a piece of paper, then you might not lose sight of the big picture.
Want to learn how to build a subscriber list for your food truck business? One of our managing partners here at FoodTruckr has put together an AMAZING FREE GUIDE that will teach you everything you need to know about getting started with Messenger Marketing! Click here to get your free guide.
If you liked this article, then we encourage you to share your feedback, advice, questions and/or stories below!
Looking to build a new custom food truck? Check out this link for more details!
To dig your teeth into what FoodTruckr has to offer, make sure to like us on Facebook and follow us on Twitter, and also make sure to check out more content that we bring to the table.
There is no ads to display, Please add some