We have a special treat for this week's edition of Flashback Friday.
For this week's edition, we are flashing all the way back to the first article ever published at FoodTruckr.
The title: The Great Food Truck Race: How It Works and What You Can Learn.
Whether you are trying to take your food truck business to the next level or just want to dive into a great read on this fine Friday, we have you covered.
Just like with previous Flashback Friday pieces, we will unleash a preview of the article as well as the link.
Check it out below, and here's to you making all of your mobile kitchen goals and dreams come true!
Flashback Friday: The First Article Ever Published At FoodTruckr
Sign up to receive the FoodTruckr Newsletter and we'll throw in our free guide: 6 Free Social Media Tools to Get People Talking About Your Food Truck.
Sneak peek of the article:
Eight food truck teams. Seven weeks to compete. One shot at $50,000 and a brand new truck. That's the premise behind the Food Network's popular reality show, The Great Food Truck Race.

If you're not watching, you should be.

The Great Food Truck Race offers valuable insights into the dos and don'ts of running a food truck. While the show is certainly sensationalized—what "reality" show isn't—it provides some context to real life situations that you can study and judge. You can ask yourself: How would I handle that situation? Is that issue real, or contrived? Am I making the same mistakes as these food truck owners?

Perspective and preparation are your rewards for watching and engaging in such thought exercises. Hopefully you'll glean a bit of entertainment too; the show is hosted by celebrity chef Tyler Florence, after all.
Looking for Food Trucks For Sale? Check out this link for more details!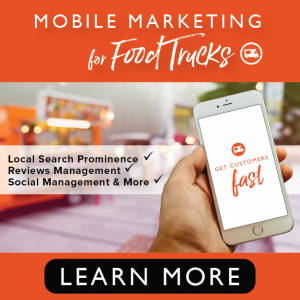 What's that? You're already hooked and want to see some more preview action? Ask and you shall receive!
What You'll Learn From Watching

1. Be Prepared for the Unexpected

The Great Food Truck Race teams never know what's going to happen next. Such uncertainty exists in the daily routines of all food truck owners. Granted, you may never need to convert your entire truck's menu to vegan meals for a single day in order to stay in business (a challenge imposed on the show), but you will need to know how to improvise when you're running out of a key ingredient and the line outside won't stop growing.

2. Teamwork Matters

No matter how close you are to the other people working on your food truck, disagreements and stress are bound to arise from working together in such close quarters. When that happens, resist the urge to point fingers (a common mistake highlighted on the show). Instead, collaborate on a clear plan that resolves the issues and prevents it from occurring again. Remember, you'll always emerge stronger when you work together to conquer your struggles. When you do, success tastes that much sweeter.

3. Tell Your Story

You know that your customers, led by your loyal regulars, are the lifeblood of your business. Engaging them in meaningful ways is a must not only for the day's sales targets but for future top-line growth too. The food truck owners on the show learned this lesson in dramatic fashion when they had to sell $200 worth of food as fast as possible. What was the most effective sales technique? Storytelling. By sharing personal insights and connecting on a human level, patrons became more excited by the opportunity to become part of that truck's story through the shared experience of enjoying their food. This creates a "wow-ing" experience that motivates your customers to come back time and again. (Much more on telling a better story.)
You can read the entire article here!
Looking to take your food truck business to the next level? If so, then The Food Truck Growth Kit has your name written all over it!
When it comes to all things related to food trucks, FoodTruckr really is your one-stop shop. If there is a question you have about food trucks, then we've probably already written an article about it. More likely than not, there are articles we have published that feature ideas you weren't even thinking about for your mobile kitchen. To get a sense of what we're talking about, make sure to check out our blog here.
Happy Flashback Friday, FoodTruckrs!
Looking to build a new custom food truck? Check out this link for more details!
To dig your teeth into what FoodTruckr has to offer, make sure to like us on Facebook and follow us on Twitter, and also make sure to check out more content that we bring to the table.
There is no ads to display, Please add some