Editor's Note: Today we're excited to present a post from Jeremy Adams. Jeremy is the President/CEO of Prestige Food Trucks, which is the world's leading custom food truck manufacturer. In his current role as President/CEO, Jeremy manages dozens of employees, interacts with clients, and maintains a healthy relationship with all of his business partners. Since Prestige, Jeremy has launched many other successful companies.
If you are a food truck owner, then you, in every way imaginable, run your own business. And just like any other business owner, or any other profession, really, food truck owners have to cut out distractions.
When it comes to success, focus is one of the most important ingredients. Without focus, a person will take longer to do a certain project, said person likely won't be doing his/her best work, and productivity will take a hit.
Whether you are cooking up a storm in the kitchen, prepping food, interacting with a customer or whatever it might be, you have to stay focused on the task at hand. It might sound corny, but that is how you not only do your best work, and eliminate mindless mistakes, but how you become the best version of yourself as well.
Sign up to receive the FoodTruckr Newsletter and we'll throw in our free guide: 6 Free Social Media Tools to Get People Talking About Your Food Truck.

If you want to spend less time on any given project, such as prepping your food for a food truck event/catering gig, then make focus a top priority.
Looking for Food Trucks For Sale? Check out this link for more details!
How do you stay focused on the task at hand? Simple. You eliminate distractions. That means not playing on your phone (especially if you are handling food), it means not browsing Facebook, or the internet in general, and, in some cases, it means closing the door while you work. For example, when you are crunching numbers and making sure the books are good, if you will, you literally should shut the door so others don't come barging in. The more focused you are during this process, the shorter time it will take you, and the less amount of mistakes you will make.
RELATED: How All Food Truck Entrepreneurs Should Approach Their Goals. If you are looking for the ultimate way to approach your food truck goals, then let this article be your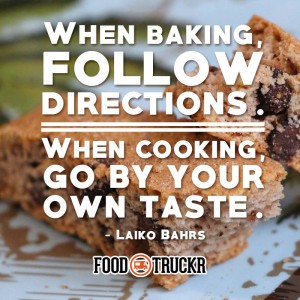 guide.
Take pride in your work, focus on the task at hand and be the best food truck owner you can possibly be, while cooking your best meals in the process.
When it comes to success, mobile kitchen owners should look at focus as one of their best friends.
Looking to start your own food truck? Prestige Food Trucks can do wonders for you in that department.
To dig your teeth into what FoodTruckr has to offer, make sure to like us on Facebook and follow us on Twitter, and also make sure to check out more content that we bring to the table.
There is no ads to display, Please add some