Editor's Note: Today we're excited to present a guest post from Ashni Sharma. Ashni is currently working with AppsChopper as a mobile developer. Having extensive knowledge about apps and a flair for writing, she has shared her knowledge by writing informative articles.
In today's time, technology touches every aspect of our lives, but with the advent of smartphones and cloud computing, it is making more of a impact than ever before. It would be very rare to go anywhere and not find a high-tech piece of software or hardware around. Technological advancement is almost in every field and one such place where we can see more of it is in the food and restaurant industry. Ranging from the arrival of mobile devices on the table to social media to online booking to the latest payment methods, technology has affected the food industry to a great extent.
Seeing the latest trend in the market, almost every restaurant or food truck owner is realizing the importance of having a well-designed mobile application. They understand the fact that in order to survive in the cut-throat competition, mobile marketing and communication is the need of the hour.
Sign up to receive the FoodTruckr Newsletter and we'll throw in our free guide: 6 Free Social Media Tools to Get People Talking About Your Food Truck.
As per the trend, food trucks are gaining immense popularity among the masses. They go to distinct locations and there is hardly any chance that the vendor won't go to its regular spot. The main concern is people knowing where you will be. Of course, social media can help in this area. However, with the help of a mobile app, you can easily make your vending location visible on a map. This will help customers track your location with ease and enjoy the food.
Packed with extensive features and extra capacity to increase the potential of a restaurant or food business, a mobile app can be highly beneficial. Below, we are listing off some of the main benefits of having a mobile app for your food catering business.
Quick Ways To Connect
A well-designed app for your food truck will not only help you in reaching a large customer base, but it will increase your revenue as well. You can easily make your services available for mobile users which can help you build long-term relations with them. With the help of an app, customers can easily communicate with you without any barrier and order their desired food instantly with ease.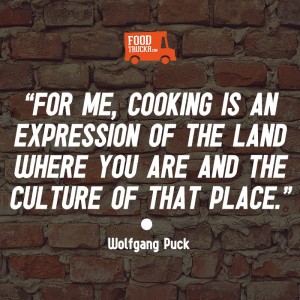 Customer Trust
Allowing your customers to put your business in their pockets no matter where they go, providing them with positive user experience and keeping them well-informed are some of the ways to attract customers and convince them to come back for more. A mobile app can be the perfect marketing tool for improving the customer loyalty and appealing to new clients.
Complete Menu At Your Customers' Fingertips
Another major benefit of having a mobile app is that you can easily share your menu with your customers. Inclusion of the whole menu in the mobile app will help you in showcasing a complete range of drinks and food available at your food truck. The customers can easily make the reservation online and check in to your restaurant.
Valuable Information
You can increase the popularity of your restaurant or food catering business by giving your customers some useful information about the special dishes of your restaurant, ingredients utilized to prepare them, etc. Today, customers look for the real experts of their craft and select exceptional proposition.

Navigation Option
With the help of the navigation option available in your mobile app, customers can easily find your restaurant in any specified area. This feature will help you in promoting your brand name as well as driving numerous customers to your restaurant.
Summary
Technology has never been more instinctive than it is now, and it is getting better day by day. Technology enables people to find their desired restaurants without any hassle, rate them and help them in deciding where to spend their hard-earned money when they go out to eat. Apart from this, these apps are also beneficial for businesspeople as they allow them to reach their prospective customers in no time and increase their revenue.
We have tried to include all the major benefits of having a mobile app for your restaurant or food truck business. Hopefully this article turned out to be helpful for you. If you think we have left out some points, then feel free to share your reviews in the comment box below.
Looking to build a new custom food truck? Check out this link for more details!
To dig your teeth into what FoodTruckr has to offer, make sure to like us on Facebook and follow us on Twitter, and also make sure to check out more content that we bring to the table.
There is no ads to display, Please add some