Editor's Note: Today we're excited to present a post from Jeremy Adams. Jeremy is the President/CEO of Prestige Food Trucks, which is the world's leading custom food truck manufacturer. In his current role as President/CEO, Jeremy manages dozens of employees, interacts with clients, and maintains a healthy relationship with all of his business partners. Since Prestige, Jeremy has launched many other successful companies.
You've already made it this far in the food truck industry … but you might not be as fulfilled as you thought you would be for the simple fact that you haven't achieved an overwhelming amount of success (yet).
If you can relate, then you have to figure out what is holding you back. It could be something small, and it could be something major. The key is identifying what is holding you, and your business, back, and then making a plan (and taking action, of course) to conquer whatever is holding you back.
It could be your employees, negative mindsets, a lack of branching out, a terrible social media game, your food truck locations, your food itself, customer service, etc.
Sign up to receive the FoodTruckr Newsletter and we'll throw in our free guide: 6 Free Social Media Tools to Get People Talking About Your Food Truck.
What is holding you back, FoodTruckrs? Why aren't your sales as booming as you would like them to be?
More likely than not, it is because something you/your business is doing. For example, if you aren't using your social media networks to your advantage, then you probably aren't targeting as many people as you could be, and these people could/should turn into more customers.
If you simply don't have the right dream team in place, then start making changes now in hopes of creating your dream team in the near future.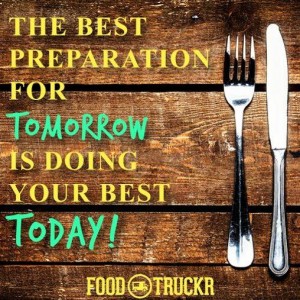 About to join the food truck industry? If so, then make sure to check out the How to Start a Food Truck: The Definitive Guide.
Are you branching out enough via catering gigs and food truck events? Are you just sticking to your normal locations? As a food truck owner, you should be looking for as many streams of income as possible, because that will lead to more money, and you not having to worry about daily sales as much. Catering gigs and events can provide these streams for you.
If your customer service (and bad reviews) is scaring prospective customers away, then you need to change that before your business sinks altogether. You have to be a leader. If you treat your customers right, then your employees will follow. And if they don't, then you need to replace them.
Looking for Food Trucks For Sale? Check out this link for more details!
You can have a thriving business, but you need to figure out what is holding you back first. Look at your numbers, analyze the daily operations, see what other food truck owners are doing, learn new strategies and just try to learn new ways to make all aspects of your business all-star worthy in general.
No one said it was going to be easy, but you can have a thriving food truck business. You can succeed. In fact, you can be as successful as you want to be in this industry — you just have to be willing to put in the work.
If you liked this article, then we encourage you to share your feedback, advice, questions and/or stories below!
Looking to build a new custom food truck? Check out this link for more details!
To dig your teeth into what FoodTruckr has to offer, make sure to like us on Facebook and follow us on Twitter, and also make sure to check out more content that we bring to the table.
There is no ads to display, Please add some