A lot happened at FoodTruckr last week in the form of articles being published — you know, articles that are leaking with valuable information for food truck owners and their businesses.
Now, we understand how busy mobile kitchen owners can get from time to time (60-hour workweeks, anyone?), which is why we love to drop these types of pieces on Monday, pieces that feature all of the articles from the week prior in one place.
Check it out below!
The Best FoodTruckr Advice For Mobile Kitchen Owners From Last Week: Jan. 1-7
Sign up to receive the FoodTruckr Newsletter and we'll throw in our free guide: 6 Free Social Media Tools to Get People Talking About Your Food Truck.
Preview: "And now, we want to unleash a ton of advice in the form of every article published at FoodTruckr from last week. Use the advice/information wherever you see fit, and good luck conquering 2018, mobile kitchen owners."
Preview: "Goals are so important during the journey of success, and that is especially the case if you are trying to achieve success in the food truck industry.
"In hopes of helping you out in the goals department, we are about to highlight three FoodTruckr articles that revolve around — you guessed it — goals."
Preview: "Another year is upon us, which means another year of delicious food holidays is also upon us, and with that in mind, we are going to highlight 10 food holidays mobile kitchen owners should watch out for in January 2018.
"While you don't have to incorporate a meal for every single food holiday below, it's never a bad idea to spice things up in the form of adding a new special, even if it's for a limited amount of time."
Preview: "For this week's edition of Throwback Thursday, we wanted to pose this question: What are your New Year's resolutions for 2018?
"What are your big plans to make this the best year yet at your food truck business?
"In hopes of getting your creative juices flowing, and to also give you some all-star ideas in the process, we are going to go back in time to an article that is tailored around resolutions for food truck owners, and a preview and link of the article can be found below."
Looking for Food Trucks For Sale? Check out this link for more details!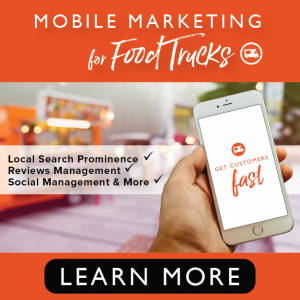 Preview: "While the actual food you serve at your mobile kitchen is rather important — it's your product, after all, and likely the thing you are most passionate about — customers are right up there when it comes to importance.
"If you don't have any customers, then it doesn't matter if you have the best recipes in the world, because you won't have anyone to sell your meals to. Likewise, if you don't satisfy your customers, then you likely won't retain them, and your reviews could take a hit as well."
Preview: "We have said it so many times before, but we really can't hammer this point home enough: Your customer service has to be leaking with quality, from how you treat your customers to how your employees treat your customers.
"No, you are not going to make every single customer happy, because customer disputes do happen, but the main point is this: If your customers are not happy, then they might not return, they might tell their friends about their, in this case, lousy experience, they might leave a bad review or all of the above. All of those things could damage your credibility at your mobile kitchen business, so do everything in your power to become an expert in the customer service department in 2018."
Looking to take your food truck business to the next level? If so, then The Food Truck Growth Kit has your name written all over it!
Preview: "Note: If you want to join the food truck industry in 2018, then you can. If you want to take your food truck to new heights in 2018, then you can. You can do anything you want to do, and you can truly achieve as much success as you want to achieve. However, you have to be willing to put in the work, and you also have to learn from your mistakes and successes."
Want to learn how to build a subscriber list for your food truck business? One of our managing partners here at FoodTruckr has put together an AMAZING FREE GUIDE that will teach you everything you need to know about getting started with Messenger Marketing! Click here to get your free guide.
If you liked this article, then we encourage you to share your feedback, advice, questions and/or stories below!
Looking to build a new custom food truck? Check out this link for more details!
To dig your teeth into what FoodTruckr has to offer, make sure to like us on Facebook and follow us on Twitter, and also make sure to check out more content that we bring to the table.
There is no ads to display, Please add some