Whether you are a first-time food truck owner or have been conquering this industry for years, you can never afford to cut learning out of your life. The same thing goes for advice and lessons.
After all, the business game (yes, the food truck industry as well) is ever-changing, which means you have to continue to learn new practices over and over again if you want to stay on top of your game.
With that in mind, and for the purposes of this Throwback Thursday piece, we are going to go back to Oct. 1, 2013. On that day, FoodTruckr published this gem: 7 More Business Lessons Food Truck Owners Can Learn from Smart Online Entrepreneurs.
Once again, whether you are a first-time owner (in other words, new to the industry) or have been doing this thing for a while now, the business lessons in this article (preview and link included below) can do you wonders.
Throwback Thursday: Business Lessons Food Truck Owners Can Learn From Online Entrepreneurs
Sign up to receive the FoodTruckr Newsletter and we'll throw in our free guide: 6 Free Social Media Tools to Get People Talking About Your Food Truck.
7 More Business Lessons Food Truck Owners Can Learn from Smart Online Entrepreneurs
Preview:
"What do my customers really want?" "How do I attract new customers and convert them into loyal fans?" "Where do I need to focus my time and energy to grow the business?"

Entrepreneurs from all walks of life ask themselves these questions. Food truck owners are no different; we've heard it from the food trucks we frequent and the owners we've reached out to. Thankfully, the world of online entrepreneurship offers some ideas to help as it, like the food industry, relies heavily on direct contact with customers.

Here are seven insightful online entrepreneurs who have made it their mission to help other entrepreneurs grow their businesses. Each has a particular focus you can learn and apply. They may not sell food. But they do share an experience. And when it comes to winning hearts and minds, it's all about the experience.

Iconic entrepreneur Seth Godin is up first with the #1 habit of all successful and sustainable businesses.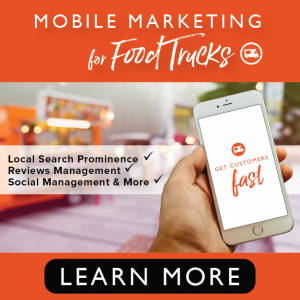 More gems from this article in preview fashion:
2. Always Stay Focused on Your Dream

Though she grew up in New Zealand, Gala Darling always dreamed of living in New York City. But when she went there for a vacation in 2008, she didn't expect that she would stay forever. However, after a fight with a friend left Gala without a place to stay, she quickly realized that she would do whatever it took to move to the city of her dreams.

Gala found a place to live right away, but the struggle didn't end there. Because she was in the country on a visitor's visa, she could only stay for 90 days. For the next year, she flew back and forth between America and New Zealand every few months until she was finally able to get an artist's visa that would allow her to move to New York permanently.

You May Also Like…How to Run a Food Truck 19: Promote Your Truck Through Yelp

Though the frequent traveling was expensive and draining, Gala never took her eyes off her dream. Today, Gala lives in New York City where she preaches the virtues of "radical self-love" on her popular blog and in private workshops. She also co-founded and runs The Blogcademy with fellow bloggers Kat Williams and Shauna Haider, and has been featured in The New York Times, Elle, Cosmopolitan, and the New York Post.
Looking for Food Trucks For Sale? Check out this link for more details!
This was just a sneak peek, if you will, of the article, so we encourage you to follow this link so you can read the entire thing.
Certainly, there's a lot you can learn from the masterminds in the linked article, and you can certainly apply the lessons to your own food truck business.
Looking to take your food truck business to the next level? If so, then The Food Truck Growth Kit has your name written all over it!
Whether the case, we will leave you with this question: What are you doing today to make your food truck business better?
If you liked this article, then we encourage you to share your feedback, advice, questions and/or stories below!
Looking to build a new custom food truck? Check out this link for more details!
To dig your teeth into what FoodTruckr has to offer, make sure to like us on Facebook and follow us on Twitter, and also make sure to check out more content that we bring to the table.
There is no ads to display, Please add some