Your customers should know when your food truck is open — and especially where it will be — at all times.
And that is why we are going to go back to Sept. 17, 2014 for this week's edition of Throwback Thursday.
On that date, this article was released at FoodTruckr: How to Run a Food Truck 03: Send Location Updates.
The easier it is to find your food truck, the more people you will attract.
Nonetheless, make sure to check out the preview of the article below, and then click on the link so you can dive into all of the information it has to offer on this rather important subject.
Want to learn how to build a subscriber list for your food truck business? One of our managing partners here at FoodTruckr has put together an AMAZING FREE GUIDE that will teach you everything you need to know about getting started with Messenger Marketing! Click here to get your free guide.
Throwback Thursday: Send Location Updates At Your Food Truck
Sign up to receive the FoodTruckr Newsletter and we'll throw in our free guide: 6 Free Social Media Tools to Get People Talking About Your Food Truck.
Since this month's unit is all about navigating your first few weeks out on the streets, we're covering a lot of ground. In our first lesson, we explained how to train your food truck employees, and last week, we talked about improving your presentation skills through clever plating techniques. Today, it's time to move on to a super important lesson that will serve you well throughout every truck stop you make in your entire food truck career.

That's right! We're talking about updating your location so that hungry customers can find you easily. Let's start out by getting right to the basics—why updating your location and sending it out to your fans is much more effective than just showing up somewhere.
Looking for Food Trucks For Sale? Check out this link for more details!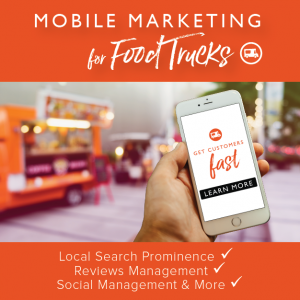 Looking for more advice when it comes to location updates? Make sure to check out the sneak peek below.
The Best Ways to Update Your Location

How do most people find their favorite food trucks? Sometimes they happen across them on the side of the street. Sometimes they use an app to find out what trucks are in their area. And sometimes they catch a post on Twitter with a particular truck's upcoming schedule.

Though there all kinds of ways for hungry customers to make it to your ordering window, we think it's important to make the process as simple as possible for them—which means readily offering your location through as many avenues as you can. Chances are that most days you'll end up getting customers from a variety of sources. There's no single way that all your fans will come to you, so it's essential to reach out through multiple channels.

By making your location readily and consistently available, you make it easy for your loyal fans and brand new potential customers alike to make it to your truck before the lunch hour ends. We recommend using all of the following three location update strategies to spread the word about your next truck stops.

1. Your Website

First things first: Your website should absolutely have information on your upcoming schedule. Ideally, we like to see trucks list out a month's worth of locations at a time—but if that's not possible, you should at least have your schedule for the next week posted.

There are a ton of different ways you can add your schedule to your website, ranging from integrating your Facebook and Twitter feeds to installing a Google calendar to manually typing up the information each week. The particular method you choose doesn't matter as much as making sure you keep it updated regularly. It's okay to have a few old dates on the schedule if you're posting a week or a month's worth of locations at a time, but there should never be a point where a customer goes to your website and isn't able to see where you're going to be today or in the next week. For that reason, we recommend using a calendar or social media feed integration tool that will automatically update so that you don't have to remember or take the time to make updates yourself.
Looking to take your food truck business to the next level? If so, then The Food Truck Growth Kit has your name written all over it!
Now, there's a ton of information relating to this essential topic, so make sure to follow this link to read the entire article.
If you liked this article, then we encourage you to share your feedback, advice, questions and/or stories below!
Looking to build a new custom food truck? Check out this link for more details!
To dig your teeth into what FoodTruckr has to offer, make sure to like us on Facebook and follow us on Twitter, and also make sure to check out more content that we bring to the table.
There is no ads to display, Please add some