Editor's Note: Today we're excited to present a post from Tori Galatro. Tori is a blogger, copywriter, and SEO outreach manager based in Austin, Texas. Her favorite things to write about are film, food, travel, art, and culture. She has a degree in English Literature. For more information about her and to see some writing samples visit http://www.torigalatro.com/.
Ian Walling has been the general manager of Arlo's, a popular vegan burger and taco truck in Austin, TX, for three years. We asked him for some expert advice on food truck ownership and operation, what sort of challenges owners can expect to face and some of the secrets to the success of Arlo's.
Sign up to receive the FoodTruckr Newsletter and we'll throw in our free guide: 6 Free Social Media Tools to Get People Talking About Your Food Truck.
Get Ready to Live the Lifestyle
According to Walling, owning your own food truck has its ups and downs, but there's one thing he says you can be sure of: "It's going to change your life."
Just like any small business or startup, owning a food truck is a huge commitment. There's no getting around it: you will need to compromise on sleep, personal time, social time and freedom.
"I wouldn't jump into it unless you're ready to live the lifestyle," Walling advises. "It's relentless… To be a great owner, you have to be fearless."
And staying afloat isn't enough. You need to keep your people skills sharp, dealing constantly with vendors, customers and employees. At Arlo's, Walling manages payroll, scheduling, ordering and delivery, among many other things, leaving the owners with the mental energy to make the bigger decisions. It's important to ask yourself who is going to do all the dirty work, the paperwork and the grunt work, because if you don't want to do it, it's best to hire general managers and shift managers who can.
Things Can Get a Little Tight
One huge difference between a food truck and a typical restaurant is the customer-volume to kitchen-space ratio. Food trucks don't have any storage, fridge or freezer space to spare, so managers really need to stay on top of orders, deliveries and prep cooking to ensure availability of key menu items.
Walling advises that managers expect to be making shopping lists at 3 a.m., submitting multiple orders a day to the same vendor and picking up the slack on prep cooking when needed. A huge contributor to Arlo's great reputation, says Walling, is their commitment to having a consistent product and reliable hours.
Want to learn how to build a subscriber list for your food truck business? One of our managing partners here at FoodTruckr has put together an AMAZING FREE GUIDE that will teach you everything you need to know about getting started with Messenger Marketing! Click here to get your free guide.
Prepare for Some Big Surprises
Irregularity is the name of the game for food trucks, so you need to be prepared at all times. From emptying and filling water tanks, to changing out propane tanks during a rush, to checking city permits, there's a lot of things that food trucks have to deal with that normal restaurants don't.
"The weather rules the food truck business," says Walling.
Through sweltering heat, freezing cold and pouring rain, it's crucial that you remain open during your posted hours, and prepare for any challenges the weather may bring, including flooding, freezing and overheating. And there are other considerations, if you're often on the go or do catering orders, to make sure pots and pans aren't falling off the walls.
A popular misconception of food trucks, says Walling, is that the food will be faster than at a regular restaurant.
"It's not pre-prepared food," says Walling. "We're cooking everything fresh to order… we're not just scooping stuff out of warmers that's just been sitting there all day long. This is real food and we're really cooking it as if you were to order it at a restaurant through a server."
RELATED: 5 Unusual Food Truck Concepts You May Not Have Thought Possible
It's All About Respect
One of Arlo's most popular locations has maintained a steady 4.5 rating on Yelp for years. Their secret? According to Walling, it's simple: happy employees make for happy customers. At least at first, it's probably not in the budget to pay your employees a ton of money, but it's important to remember that your employees have their own lives, so respecting their time, scheduling needs, time-off requests and personal concerns will earn you loyalty more than an extra dollar could.
As with everything else, if you're not prepared to handle the downsides of people management, hire someone who is. Walling is the first to admit how difficult it can be to assert your authority when you're trying to maintain a positive and fun atmosphere, but it's all part of the job. It's also important to show that you're not too good to get dirty in the dish pit, or get sweaty next to the frier, like everyone else, when the situation calls for it. And remember that your attitude affects everyone else's, so lead by example.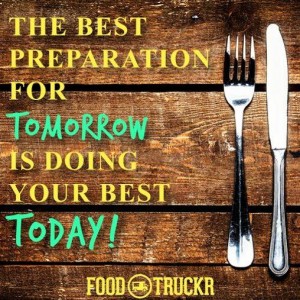 From rent, to loans and investors, to propane, there are so many expenses to keep track of, but Walling reassures us that Arlo's does make money and that the food truck business doesn't have to be a money pit. You have the added flexibility of a lower initial investment for each additional location so, Walling states, "You grow to the size of your fish bowl."
But it's not a get-rich-quick scheme (or a get-rich-slow scheme), and those who succeed, don't do it for the money.
"I just love making people happy with our food. It's so gratifying. Sometimes I haven't slept for three days and someone tells me it's the greatest bacon cheeseburger they've ever had and you can't touch that… It makes it totally worthwhile."
Looking to build a new custom food truck? Check out this link for more details!
To dig your teeth into what FoodTruckr has to offer, make sure to like us on Facebook and follow us on Twitter, and also make sure to check out more content that we bring to the table.