The weekend is here. Therefore, we pose this question: What are you doing to make your food truck business better?
More likely than not, you are putting in some serious hours since your lines are likely flooding with customers.
Nonetheless, you always have to be doing something in this industry … well, if you want to survive and thrive. As a result, we are about to unleash some weekend tips that are perfect for new food truck owners. They can be found below … in bullet point fashion.
Note: If you don't take any days off, then you are constantly on the job, and you are constantly focused on making your business better. Also, your weekend might not be on Saturday and Sunday … it might be on Monday and Tuesday, Monday and Thursday, just Wednesday or any other combination. It doesn't matter when your weekend is — you should still put in work, and follow the tips below.
Sign up to receive the FoodTruckr Newsletter and we'll throw in our free guide: 6 Free Social Media Tools to Get People Talking About Your Food Truck.
Looking for Food Trucks For Sale? Check out this link for more details!
Weekend Tips For New Food Truck Owners
Hustle, hustle, hustle. If you want to get ahead of the competition in this industry, then you have to outwork every single person, or at least try to. You have to have this mindset: If I am sleeping, or not working on my business, then the competition is, and they are getting ahead of me as a result.
If your business isn't busy on the weekends (perhaps you take a Saturday or Sunday off?), then that doesn't mean you should cruise through the weekend. No, you should be learning, coming up with new strategies, studying the competition and thinking of ways to make your mobile kitchen business better in general. That is what successful people do in the business and entrepreneurial worlds, and that's what successful food truck owners should be doing as well.
Don't let distractions and temptations win. If you really want to be successful, then you will say no to distractions and temptations. Spoiler: If you want to be successful during this lifetime, then you are going to have to make sacrifices, and said sacrifices will come in the form of working on a Friday night, going to a conference on a Saturday or doing some form of work in general while others are out having fun. Now, everyone needs downtime, and breaks, and we understand that. However, would you rather take the weekends off or have a successful business? You can say whatever you would like, but your actions will do the only talking that matters.
Looking to take your food truck business to the next level? If so, then The Food Truck Growth Kit has your name written all over it!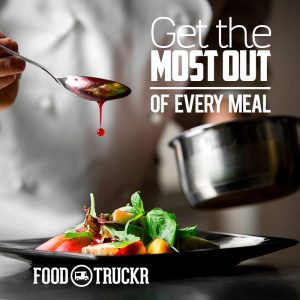 Explore. You probably have a good idea of what your business does right and wrong, but do you have any clue what the competition does? Said competition could be doing things way more efficiently than you, or they could be incorporating a food trend that you aren't aware of yet. It's okay to talk to other food truck owners and the people of this industry in hopes of learning/making your business better. It's called networking, and it goes down in every other industry!
Take care of your mind, body and soul. If your foot has been on the gas pedal for far too long and you are running on fumes, then take a much-needed break. It's okay to take days off when you really need them.
Catch up. Your social media networks might not have gotten much love during the week. If you are less busy on the weekend, then take the time to catch up with your followers/fans/customers. Heck, schedule out all of your posts for the upcoming week during this time! The key is to use this extra time, if you will, to catch up and/or get ahead.
Have fun! Your food truck lines might be busy on the weekend, but you can bet that people are happy to try out your food. Cook up a storm in the kitchen, connect with your customers and just have a great time in general. You entered this industry because you are passionate about cooking. Live it up, and don't ever take it for granted.
RELATED: 3 Ways To Keep Your Food Truck Employees Motivated
Looking to build a new custom food truck? Check out this link for more details!
To dig your teeth into what FoodTruckr has to offer, make sure to like us on Facebook and follow us on Twitter, and also make sure to check out more content that we bring to the table.