Editor's Note: Today we're excited to present a guest post from JSL Financial. JSL Financial specializes in providing hassle-free financing for small and medium sized businesses. You can find out more about JSL Financial by checking out their website.

Are you trying to break into the food truck industry but simply don't have the funds to make that happen? Perhaps you have enough money to buy your truck but you don't think you can make it work in the short-term because you are literally spending your life savings on the initial launch of your business. Have you ever thought about food truck financing to get your business started?
If not, then now is the time to start looking at that route to get you started. After all, you can't follow the dream that is owning and operating your own food truck until you actually buy one.
Sign up to receive the FoodTruckr Newsletter and we'll throw in our free guide: 6 Free Social Media Tools to Get People Talking About Your Food Truck.
Here are a couple of things to keep in mind when it comes to getting food truck financing:
You don't have to have perfect credit, but if you don't, then you need a qualified cosigner.
Even if you have perfect credit or a qualified cosigner, you might need cash for a downpayment.
On top of the two points above, you might need collateral to get a good financing deal, and if you don't have collateral (such as a car or home), you might need even more cash for a downpayment.
If you can show off a business plan, then it will help you get financed, and you might need it if you plan on getting a loan of any kind.
Let's get to the main question why we are all here: What can financing do for your food truck business? Well, it can either help you buy your food truck, or it can give you some startup capital to work with.
Looking to start your own food truck? Prestige Food Trucks can do wonders for you in that department.
Not everyone has $50,000 to $100,000 in the bank, so not everyone has enough money to purchase a food truck. That is where financing comes into play — it can help you buy a food truck so you can finally get your mobile kitchen business going.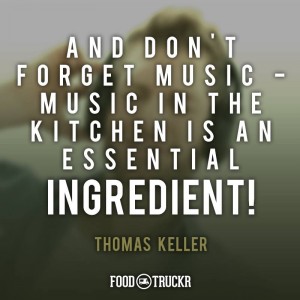 Startup capital is handy because it can help you buy things like inventory, your food truck equipment and it can also help you stay afloat when you are first getting started. If you really want, you can use this money to hire more employees, which will hopefully give you a break and expand your business in the process.
Not everyone succeeds overnight in this industry, so you might struggle from a financial standpoint early on. In fact, it appears that people rarely succeed overnight. The food truck industry takes a lot of hard work, long hours at the office (aka the kitchen truck) and it takes a whole lot of patience.
RELATED: How To Increase Your Odds Of Getting Food Truck Financing. If you want to increase your chances of getting a loan for your food truck, then this article has your name written all over it.
Nonetheless, if you are trying to break into this industry, then look into financing to get you started. You don't have to have perfect credit to get food truck financing, but it will be an uphill battle if you don't. Regardless, it is possible to get financing. The first step is trying.
Looking for financing to start or grow an existing food truck? JSL Financial has you covered.
To dig your teeth into what FoodTruckr has to offer, make sure to like us on Facebook and follow us on Twitter, and also make sure to check out more content that we bring to the table.
There is no ads to display, Please add some