Since the holidays are among us, we thought it would only be right to say … happy holidays!
We hope food truck owners are really enjoying this time of year, and we also hope you have achieved all of your goals and dreams for 2017, for 2018 is almost here.
If you haven't, then that is okay. Just make sure to hit the ground running once 2018 is here. Also, it would be a great practice to reflect on the year you just had. Review what you did right and wrong, and then make changes wherever you see fit.
Spoiler: If you do the same things you have always done, then your results will be the same results you have always seen.
You have to change it up if you plan on seeing new results.
Want to learn how to build a subscriber list for your food truck business? One of our managing partners here at FoodTruckr has put together an AMAZING FREE GUIDE that will teach you everything you need to know about getting started with Messenger Marketing! Click here to get your free guide.
Nonetheless, we just want to say happy holidays here at FoodTruckr! We hope this has been a great time for you.
While we are at it … happy New Year as well!
Sign up to receive the FoodTruckr Newsletter and we'll throw in our free guide: 6 Free Social Media Tools to Get People Talking About Your Food Truck.
Just in case you are looking for some food truck advice, make sure to check out the five articles below (previews and links included).
Types Of People Food Truck Owners Should Study To Gain More Success
No matter what industry you are in, you can never stop learning. The food truck industry is no exception.

So how can food truck owners continue their learning? They can read articles (such as this one), they can read books, they can study people, which is what this article is all about, and the list could go on and on.

In hopes of taking your success even further, we are about to unleash three types of people food truck owners should study, and they can be found below.
About to join the food truck industry? If so, then make sure to check out the How to Start a Food Truck: The Definitive Guide.
Things That Should Never Go Under The Radar At Your Food Truck
Food truck owners have to juggle so many different things at their mobile kitchen businesses, and that, in a nutshell, is why running a food truck business is so hard.

If cooking amazing dishes was enough, then that would be amazing, but it simply isn't. Don't get us wrong, the cooking aspect is a very important ingredient, and we will get to that in greater detail below, but you are running a business here, and there are many important factors.
3 Valuable Food Truck Goals To Consider In 2018
With 2018 nearing, many food truck owners have likely been thinking of goals for 2018. It's only natural.

With that said, we will pose this question: What are your goals for 2018?

Maybe you are still focusing in on your 2017 goals, which is completely fine.

At some point, though, you have to make your goals for 2018, and in hopes of helping you out during that process, we are about to unleash three valuable food truck goals to consider in 2018.
Looking for Food Trucks For Sale? Check out this link for more details!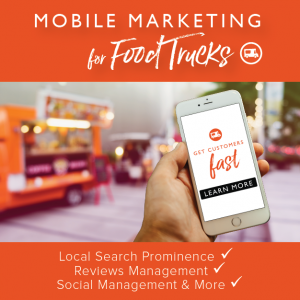 5 Things Food Truck Owners Should Focus On In 2018
You, of course, need to focus on your food truck. This is your business. Your livelihood. Your baby. You've sunk a lot of money into this venture, and not only that … but it is your dream job. So you, more likely than not, know you need to focus on your food truck, but the point of this step is to not get complacent by going through the motions.

If you really want to see some success at your food truck, then you will become a goal-oriented person, and all of these goals (at least many of them) will revolve around your food truck. What are you doing right now to make your food truck business money? Always ask yourself that in 2018.
How Food Truck Owners Should Approach Their 2018 Goals
You are the one who is the food truck owner. You know how your food truck operates, you know what is achievable at your truck and you know how to make your own dreams come true (you became a food truck owner, right?).

There are people who, instead of making goals, like to create habits, and then work on those habits throughout the year. For example, if someone wanted to write a 60,000-word book, but said someone doesn't write that much in the first place, or always breaks his/her writing commitments, then it would be better to just build a habit of writing as opposed to making the goal 60,000 words. In time, the work will get done, and this person in question will have built the habit that is writing on a daily/weekly basis.
If you liked this article, then we encourage you to share your feedback, advice, questions and/or stories below!
Looking to build a new custom food truck? Check out this link for more details!
To dig your teeth into what FoodTruckr has to offer, make sure to like us on Facebook and follow us on Twitter, and also make sure to check out more content that we bring to the table.
There is no ads to display, Please add some