Not everyone who enters the food truck industry has a background in food, if you will. Some people enter this industry to become chefs, even though they have little experience in that department. Others enter because they are entrepreneurs and they want to get their first business underway. Then there are people who enter this fine industry for completely different reasons, and Gypsy Express fits that description.
FoodTruckr had the pleasure of interviewing Karen Melanson of Gypsy Express. Gypsy Express is located in Quebec. What makes it so unique? Well, for starters, this food truck is family-owned and operated. It's interesting to note that Melanson and her husband, Gilles Lepage, started up a food truck as a from of retirement plan.
"Our food truck is our pre-retirement plan. I know that sounds strange, but we are only in our 50's," said Melanson. "Our background does not fit the food truck industry per se. Let me explain. My husband, Gilles, drove a truck for 20 years and then sold the windows and doors. I am an addiction trauma counselor. I work with the Inuit and Aboriginal people. Gilles speaks two languages, and he was born here in Quebec. I am from Nova Scotia and I speak English and very little french. As you can see, we had roadblocks from the start. This really was an adventure for us."
At one point or another, everyone has cooked up a storm in the kitchen, and Lepage is no exception.
"Gilles has always relaxed by cooking, and we have a large family with a few picky eaters. Gilles' dream was to own and operate a restaurant, but as you know, it is easier and cheaper to start a food truck first, or at least it was for us. When Gilles made up his mind and said we will have a food truck in one year, I thought he lost his mind, but we decided to do it. It was a tough year as every extra penny went into building a food truck out of a 1980 Dodge Sportsman."
Sign up to receive the FoodTruckr Newsletter and we'll throw in our free guide: 6 Free Social Media Tools to Get People Talking About Your Food Truck.
When it comes to starting up a mobile kitchen, picking the concept is half the battle. Yes, it's crucial to have a killer business plan and the actual money to pay for the truck, but the concept is the ingredient that is going to keep a food truck in business. Just like everyone else in this industry, Gilles contemplated his concept.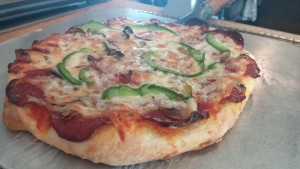 "10 months later, with Gilles doing everything, we opened. The concept was all Gilles. He wanted something cheery and that appealed to all. The happy sun and design of the truck was all passed by our grandkids. There is a reason kids like McDonald's, right?"
Just remember, not everyone needs a massive amount of experience to be successful, no matter what industry someone is trying to conquer.
"All we had for experience was a passion to feed people, and we learned along the way. Believe me, there were days where we said, "What the hell are we doing?""
Now, let's talk food. You know, the reason why people venture to lunch trucks in the first place.
"Our menu changes depending on what festival we are doing, what season we are in. We do have a large menu, but we are set up for it and change. We try different things. If they work, they stay. If they do not, we have a family party and there is never any waste."
When asked what Gypsy Express' No. 1 selling item was, Melanson had this to say:
"Our No. 1 selling item is the Steamie Dog. It is a hot dog bun steamed, and the hot dog is also steamed. We have around-the-world toppings, everything from plain ketchup to chili on top, and we have named them. Right now we have eight choices."
Taking the menu a step further, Melanson gave us her top three menu items. Prepare to drool.
"Our top three menu items are the Steamie Dog, a homemade 8-inch pizza that is made in front of you. Gilles sings while he makes it. Everyone loves that … but me. It is made to the customer's liking here in Quebec. We eat the pizza crust with butter, because it is fresh bread. Before coming here, I never ate the crust — it was always tossed out. And of course, the third item is the real Montreal smoked meat sandwich, served with potato chips, salad or a piece of pizza."
RELATED: Barroluco Argentine Comfort Food Is Bringing Delicious Argentine Dishes To The Food Truck Industry. If you are a fan of Argentine food — why wouldn't you be? — then you need to check out this article.
Since it's officially fall, it was only natural to ask Melanson if she changes up the menu for this time of year.
"We change our menu for fall by adding soup, spaghetti, hot foods and drinks. Thanksgiving is in October here in Canada, and we are thinking about doing something very different because most people do the big turkey dinner. To be different, we are thinking of doing a Chinese meal. Homemade egg rolls with fried rice and ribs."
Not everyone stays open for the winter in the food truck industry. In fact, Gypsy Express already has a closing date in mind.
"We have decided that Halloween will be our closing date. We have decided to do different colored grilled cheese sandwiches and homemade caramel apples. It is also Gilles birthday, so we will have a lot of fun with the kids."
If you ever venture to Gypsy Express and are contemplating what to order, let the quote below be your guide.
"We always ask how hungry people are, and then suggest from there. Our fries and poutine are baked, not fried, which takes a little longer, but everyone agrees they are worth it. It is also one item that people who have to watch their sugar can eat, because we use red potatoes."
The food truck industry has a lot to offer. While many people point out flexibility as their favorite part about owning and operating a mobile food truck, others go with a completely different answer altogether.
"Our favorite part of being food truck owners is we love food and people, and we can put them together. When we are in the park, we offer table service. People love that, because most places take your money and show no appreciation to the customers. We pass out free popcorn to families. Not big bags, but a little. It keeps the kids happy so mom and dad can order without the kids screaming. We have passed out Mr. Freezes to kids when it is hot. You have to give a little, it cost nothing to show kindness."
RELATED: A Picnic Place Is Serving Up Mouthwatering Foods This Fall — And All Year Long As Well. Here's a food truck with an amazing concept. You would be crazy not to try it!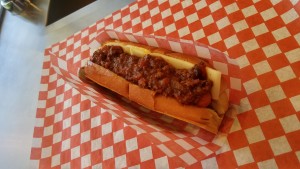 When constructing these interviews, we always like to ask current food truck owners what advice they would give to prospective food truck owners, and here's the advice Melanson served up.
"Our advice, well, when setting up a business like this, use your five senses. You must have a passion for people and food. We visited many food trucks and canteens, and we used what we liked out of each of them and then put our own personality into the mix, and bing, bang, poof, GYPSY EXPRESS. We wish everyone the very best in their adventure."
To dig your teeth into what FoodTruckr has to offer, make sure to like us on Facebook and follow us on Twitter, and also make sure to check out more content that we bring to the table.
There is no ads to display, Please add some