As we get deeper into fall and the weather gets cooler and cooler, the glorious food that is chili becomes more and more popular. With that said, if you are a fan of chili or live in Texas (or both), then it doesn't matter what time of the year it is — chili is always in season.
FoodTruckr had the pleasure of speaking with Edward Hambleton of Texas Chili Queens. Texas Chili Queens is located in Austin, Texas and it's providing Austin with many different variations of chili. Year-round, might we add. To get a better sense of what Texas Chili Queens is about, it's important to learn Hambleton's background and how Texas Chili Queens got its start.
"I had been living in New York City working as a teacher for a while and I moved back to Texas," Hambleton said. "I was born in Austin and raised in Dallas… I was rediscovering the glory of Texas cuisine, and I remembered the Frito pie… We had a big work event where I organized a Frito pie kind of Thanksgiving at work…"
In terms of Hambleton's contributions for this Thanksgiving feast, he brought a huge pot of chili. In college, he was a personal assistant to a chef.
"I was researching a chili recipe. I came across the history of Chili Queens. They were women in the late 19th century and early 20th century based primarily out of San Antonio who would make chili all day in huge pots and then sell it all night in the main Military Plaza in downtown San Antonio. So I was kind of struck by their story and history, and their entrepreneurial spirit."
Sign up to receive the FoodTruckr Newsletter and we'll throw in our free guide: 6 Free Social Media Tools to Get People Talking About Your Food Truck.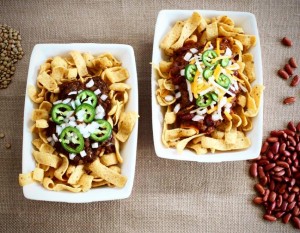 Hambleton figured this concept would really fit into the food truck scene, and he was correct in that thinking, especially in Texas.
"Chili is a perennial favorite here in Texas."
Now, let's get down to Texas Chili Queens' menu and the No. 1 food item they serve.
"The thing that we sell the most of is our classic chili. We call it the San Antonio. It's our San Antonio Frito pie. It's beef and pork simmered with our chili puree and our seasoning. And then we just give a heaping ladle over some nice crunchy Fritos, and top it off with cheese, onions, jalapeños. If the season is right, sour cream, and then people have at it and it's delicious."

"We have five different ways to get your chili served. We have a really spicy version called the El Paso with beef and tomatoes… and that pairs nicely with our cornbread."
Hambleton also mentioned the chili cheese fries as one of the most popular items on the menu. Not only are these fries packed with flavor, but customers also have plenty of options. Customers can have one of the five different chili options that Texas Chili Queens has to offer dumped on their fries.
One of the popular chili fries combos that Hambleton mentioned was the vegan chili, which he referred to as the Austin chili. He mentioned as long as people don't get any cheese or sour cream added on, it's a nice vegan option.
Since it is fall, we asked Hambleton if he brought a different menu to the mix.
"Not really, it's pretty much the same menu year-round. We have our five chilis served five different ways."
As Hambleton pointed out, there's five types of chili and five different ways they can be served, making that 25 choices. Remember, that's just for the main dishes alone.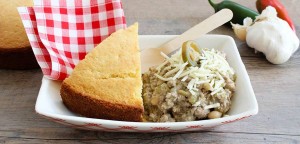 Every food truck owner has a go-to menu item that they have customers try out. However, Hambleton's suggestion for this go-to item depends on the person.
"It depends on where they're from. If they are from Texas, then they know chili… I would recommend they get our Houston chili. It's our white chili. It's pork and turkey with green chiles and white beans. I would recommend that over the cornbread, or our white trash brown rice."
According to Hambleton, the white trash brown rice is white rice made with French onion soup.
"It's a little less healthy and a lot more flavorful."
RELATED: Gypsy Express' Unique Background Is Why The Food Truck Industry Is So Great. To get a sense of Gypsy Express' uniqueness and what they bring to the food truck industry, make sure to check out this article.
Hambleton recommends the Houston chili for Texas crowds because it's something different. However, if someone is not from Texas, Hambleton recommends the San Antonio Frito pie because "it's a great introduction to Texas chili."
"I just love explaining Frito pie to people, selling it to them and just watching their faces light up in delight as they chow it down."
The food truck industry might not be the easiest industry to break into, but mobile kitchen owners can find a massive amount of success if they are willing to learn on the job and are passionate about said job. Hambleton broke down his favorite part about this fine industry.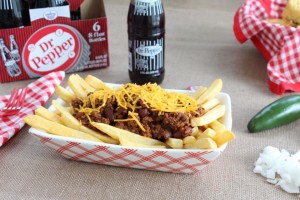 "You know, every day it's different. Even though we've been to the same office 10 times, there's still people who just started working or they haven't gotten the chance to try us yet. Just interacting with our customers is really exciting and great."
Hambleton also said he really enjoys all of the events, and doing something different every day in terms of the location.
If you are new to the idea that is owning a food truck or are thinking about breaking into the industry, then take the advice Hambleton had to offer to heart.
"Plan to work more than you've ever worked in your life."
To dig your teeth into what FoodTruckr has to offer, make sure to like us on Facebook and follow us on Twitter, and also make sure to check out more content that we bring to the table.
There is no ads to display, Please add some