Everyone likes to stay in their bubble.
After all, it's their bubble, their lane, what they are used to. However, as entrepreneurs and business owners are likely very well aware of, if you want to achieve the most success possible, and if you want to do the most growing as a person, then you have to climb out of your comfort zone.
FoodTruckrs, you need to take note.
As a result, we will be unleashing some ways food truck owners can step out of their comfort zones in the mobile kitchen industry.
Sign up to receive the FoodTruckr Newsletter and we'll throw in our free guide: 6 Free Social Media Tools to Get People Talking About Your Food Truck.
Ways To Step Out Of Your Comfort Zone In The Food Truck Industry
4. One word: Catering. Catering is not only a great way to meet new people, take on new challenges and serve at different events (it could be a wedding, a birthday party, a family reunion, etc.) but it also provides another stream of income.
When your money is rolling in from different streams, that is when you will really get your business rolling. Not to mention, you won't have to rely on one stream (your main stream) as much. Plus, and this is the main point for the purposes of this article, catering gigs help you get out of your comfort zone, for you will be traveling to new scenes instead of staying at your normal location(s).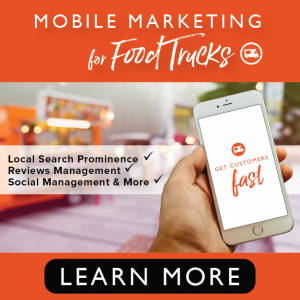 3. When you really start to grow your food truck business, you need to start delegating. It is something every boss/manager/owner has to do. After all, your daily tasks are going to start growing over time, and you can counter that phenomenon, if you will, by dishing out some of your easier work to your employees.
How exactly is this getting you out of your food truck comfort zone? Because you are likely a perfectionist (many chefs are), which means you want to be hands-on with every single task/duty; however, you aren't quite ready to start delegating work because you want it done a certain way — your way.
Get out of your comfort zone, and start delegating some of your work. Not only will it push you out of your bubble but it will allow you to become the most productive version of yourself since the delegated work will be getting done on top of the work you replaced it with.
Looking for Food Trucks For Sale? Check out this link for more details!
2. If you really want to get out of your comfort zone — which of course you do, whether you want to admit it or not — then you need to try out new recipes. Don't be afraid to incorporate new meals. Likewise, don't be afraid to change up your menu on a consistent basis, or a seasonal basis. You never know what meal is going to really stick, or what your customers are going to love. Never be afraid to test the waters when it comes to your menu.
1. This kind of goes along the same lines as catering, but it is a little different: If you want to step out of your comfort zone, then you need to hit up new food truck events. There should be plenty of food truck events going down during the busy season (of course, it depends on where you live), and these events are great for branding, getting your name out there, meeting new people, networking, learning and the list could go on and on.
Of course, not everyone wants to travel to food truck events, because it will mean you will have to go to something you are not used to. While some events aren't for everyone, if you find the perfect event for you, then you should take the leap!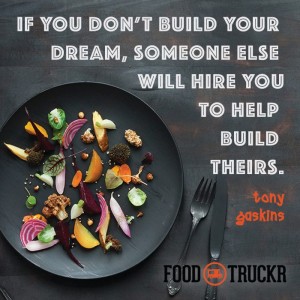 Looking to take your food truck business to the next level? If so, then The Food Truck Growth Kit has your name written all over it!
Stepping out of your comfort zone is no small task. If it were, then our comfort zones would be much larger, or nonexistent. People tend to get set in their ways, and that is very, very unfortunate. If you do not step out of your comfort zone, then you will not reach your full potential. At the very least, you could be missing out on a great opportunity, such as a catering gig and/or event.
While there are plenty of ways to step out of your comfort zone in the mobile kitchen industry, we hope the four ways mapped out above can do you wonders.
RELATED: Food Truck Safety Tips For Mobile Kitchen Owners
If you liked this article, then we encourage you to share your feedback, advice, questions and/or stories below!
Looking to build a new custom food truck? Check out this link for more details!
To dig your teeth into what FoodTruckr has to offer, make sure to like us on Facebook and follow us on Twitter, and also make sure to check out more content that we bring to the table.