September is almost here, FoodTruckrs, which means summer 2017 is almost in the books, fall is right around the corner and there are basically only four months left in the year.
With that, we pose this question: How are your 2017 goals looking? Are you on track to hitting every single one, are you behind a little bit or are you way ahead and crushing the food truck game?
Whether the case, we are here to help you finish the last few months of the year strong, and you can do so by checking out the tips below.
Sign up to receive the FoodTruckr Newsletter and we'll throw in our free guide: 6 Free Social Media Tools to Get People Talking About Your Food Truck.
Food Truck Owners Can Finish The Last Few Months Of 2017 Strong With These Tips
7. Look back at your goals now, and preferably on a daily/weekly basis for the rest of the year. Too many people create goals, write them down, get super motivated for a few weeks … and then that comes to a screeching halt in no time. That's because they take their eyes off of the prize — which is making their goals come true — and they stop looking at their actual goals.
If you want to achieve your goals, then you have to make a plan, incorporate a deadline and then constantly revisit your goals — you have to force them into your life.
6. Stick to what is working and eliminate what isn't working. You should have a pretty good idea on this subject since your food truck has been going strong all spring and summer long (you might even stay open year-round, which means you have plenty of data, if you will, to pull from). As an example, if a certain item isn't performing, meaning no one is ordering it, then you might want to consider replacing it with an item that you think will do wonders at your truck. The same thing goes with your locations, social media strategies, marketing strategies and everything, really.
5. Devise an amazing plan for fall, and when the time comes, for winter as well. Sure, summer might be considered the busy season in the food truck industry for so many different owners, but that doesn't mean you can't make good money when the temperatures start to drop a bit.
Looking for Food Trucks For Sale? Check out this link for more details!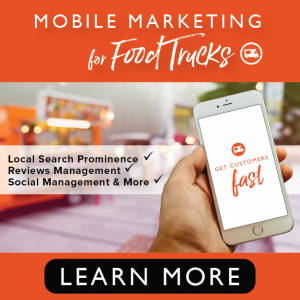 Now, this might be the time when your food truck business turns more into a catering business, and that's awesome! The key is to start making your plans now in hopes of conquering fall when it is finally here, and that could mean creating new menus (don't forget a pumpkin spice treat!) all the way to, like we stated above, turning your truck into more of a catering business.
4. Look back at last year's numbers and plan. What did you do last year around this time? Did you incorporate a different menu, did you hit up more food truck events, did you hold more catering gigs, did you have a ton of specials — what? Analyze what you actually did last year, and then see what worked and what didn't work.
Don't make the same mistakes again, whether small or big, and also don't fix something that isn't broken. If something worked extremely well, then make sure to incorporate it again.
Let last year's numbers, strategies, menus and things of that nature guide you into the new year!
Looking to take your food truck business to the next level? If so, then The Food Truck Growth Kit has your name written all over it!
3. Try setting up your holiday gigs now. This might not apply to every single food truck owner, but if you normally do something different during the holidays, such as a special catering gig/event, or something spookishly awesome with your truck during Halloween, then start planning now.
If you rely on catering gigs during the colder months, then do your best to book them now. Not only will it make your life less stressful because you will have a plan in place but it will also give you a better idea of how much money you stand to make the rest of the year.
Just prepare now by making that all-star plan.
2. Talk to your employees. Set up a meeting with your team to let them know how important these last few months of the year are. Let them know what your plan is, give them the opportunity to bounce some ideas around, let them help with the creative process and just communicate with them in general. Of course, you also want to motivate them during this meeting.
Now is the time to give praise as well as let your employees know what they are doing right and wrong.
The biggest thing with this tip is to get everyone on the same page. While a food truck doesn't have as many employees as larger companies/restaurants, teamwork is still an invaluable ingredient. Be the leader, and get ready to crush the rest of the year.
RELATED: 2 Simple Yet Effective Ways To Gain More Exposure At Your Food Truck
1. Get extra hungry.
Everyone knows what it feels like to not reach their goals, and it's not exactly a welcomed feeling. If you don't want that feeling once 2017 is in the books and the calendar turns over to 2018, then start getting extremely motivated now. We want you to achieve all of your goals and dreams, and you can do that by making a great plan, sticking to said plan and hustling (among other things, of course).
If you liked this article, then we encourage you to share your feedback, advice, questions and/or stories below!
Looking to build a new custom food truck? Check out this link for more details!
To dig your teeth into what FoodTruckr has to offer, make sure to like us on Facebook and follow us on Twitter, and also make sure to check out more content that we bring to the table.