Whether you want to believe it or not, there are things you have to give up as a food truck owner.
After all, the path to success takes many sacrifices, and to get a better idea of that, we will be highlighting three things food truck owners typically have to give up. While there are more things successful people likely have to give up — and everyone's situation is different — the three below tend to be universal.
Sign up to receive the FoodTruckr Newsletter and we'll throw in our free guide: 6 Free Social Media Tools to Get People Talking About Your Food Truck.
3 Things Food Truck Owners Typically Have To Give Up
3.) A Social Life — At Least At First, That Is
If you want to make it as a food truck owner, then you probably have to take a step back on your social life. This means going out on the weekends less. In general, you should be doing things to make your business better during your free time, whether that means updating menus, coming up with social media strategies, planning the employee schedule for the upcoming week, finding more catering gigs or whatever it might be.
While every business is different, and you might have less to do in the beginning depending on how much you delegate, every business owner should be pretty hands-on in the beginning. This will ensure that your vision is being created, and your food truck operations are running smoothly. Not to mention, you joined this industry because you wanted to be a cook, and that is a daily job when your truck is open.
The main takeaway: When you first become a food truck owner, you are likely going to be dishing out more no's than usual, because your food truck business is likely going to take up most of your time. Mobile kitchen owners are known to put in some rather long hours.
About to join the food truck industry? If so, then make sure to check out the How to Start a Food Truck: The Definitive Guide.
2.) Negative People Who Can't Appreciate Your Vision
Gone should be the days of you associating with negative people. If your friends can't respect your time, vision or passion of cooking food in the food truck industry, then you can't afford to waste your time on them.
It's hard enough being a food truck owner (or a business owner in general) as it is, and the last thing you need is someone cutting down your passions, goals, dreams, job, vision, etc.
Successful people have to cut negative people — and mindsets — out of their lives, and mobile kitchen owners are no different.
Looking for Food Trucks For Sale? Check out this link for more details!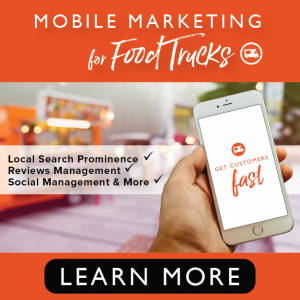 RELATED: 3 Ways For Food Truck Owners To Gain More Money
1.) One Word: Perfectionism
We understand that so many owners tend to be perfectionists, but the sooner you drop the perfectionist act, the better off you will be. Not to mention, the more time you will gain and, more likely than not, the less stressed you will be.
It's not easy delegating work as a passionate owner, but basically every owner has to do it at some point.
Now, you are going to want everything to be "perfect" in the beginning, and that's understandable, but you do need to know that not everything is going to go according to plan, and mistakes will be made. Fear not, because in time you will have strategies in place to counter these issues, and you will learn from your mistakes and failures.
Just know that everything isn't going to be perfect, and eventually … you will need to drop the perfectionist act so you can grow your business and take tasks off of your hands in the form of delegating.
No one said this industry was going to be easy, but if you stay passionate and hungry, and if you aren't afraid to put in the work, you will find a ton of success in the food truck industry.
As stated earlier, there are so many different things food truck owners have to give up when actually becoming food truck owners, but many owners can likely relate to the three things above.
Want to learn how to build a subscriber list for your food truck business? One of our managing partners here at FoodTruckr has put together an AMAZING FREE GUIDE that will teach you everything you need to know about getting started with Messenger Marketing! Click here to get your free guide.
If you liked this article, then we encourage you to share your feedback, advice, questions and/or stories below!
Looking to build a new custom food truck? Check out this link for more details!
To dig your teeth into what FoodTruckr has to offer, make sure to like us on Facebook and follow us on Twitter, and also make sure to check out more content that we bring to the table.
There is no ads to display, Please add some