If you are a food truck owner, then you are a business owner, which means you are always looking for new ways to make more money.
How can one make his/her business more profitable, though?
You could always raise your prices, but that might not go over smoothly with your customers (of course, you do need to adjust for inflation). You could look for cheaper food vendors, which will cost you less money in the short-term and long-term, because you are literally paying less money for your food.
You could also follow the three ingredients below!
Sign up to receive the FoodTruckr Newsletter and we'll throw in our free guide: 6 Free Social Media Tools to Get People Talking About Your Food Truck.
3 Ways To Make Your Food Truck Business More Profitable
Acquire More Streams Of Income
Find Ways To Save Money
Attract More Customers
Acquire More Streams Of Income
One of the best ways to make your business more profitable is by adding more streams of income. By doing so, you won't have to rely on your normal food truck sales as much (although you will still have to rely on them quite a bit).
Let's look at athletes as an example. A successful athlete will not only make money from his/her sports contract but from endorsement deals as well.
The million dollar question: How can a food truck owner add more streams of income? Simple. By adding catering gigs into the mix. These catering gigs will lead to you gaining a large chunk of money in the short-term. Plus, you will be getting your name out there, and you could also land more catering gigs if you really rock your current catering gig. Food truck owners can also go to food truck events.
If a food truck is really popular, and has an amazing following, then you could bring merchandise into the mix (such as shirts, hats, stickers, bottle openers and things of that nature). While this source of income likely won't make you rich, it is extra money that will steadily bring in more money to your business.
Looking for Food Trucks For Sale? Check out this link for more details!
Find Ways To Save Money
When it comes to having more money, most people will think they need to make more to have more, and that is completely understandable. However, people can also have more money by decreasing spending, and the same thing goes for food truck owners.
For example, mobile kitchen owners can save money by — like we said above — finding cheaper vendors. The best part? You will be purchasing your product (the food) for cheaper, but you can still sell it at the same price as before.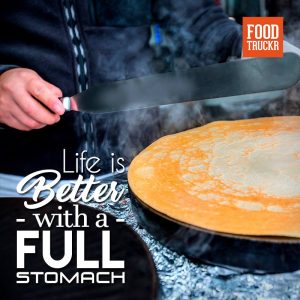 Proper food truck maintenance can also save you money. After all, and just like with a vehicle, if you maintain your truck, then you will limit the chances of something major breaking down out of nowhere, which will, of course, cost you a ton of money if the problem is serious enough.
There are many ways to save money at your food truck business. The key is to analyze your business and see where you can cut costs. This little trick can lead to you being more profitable, if you will.
Looking to take your food truck business to the next level? If so, then The Food Truck Growth Kit has your name written all over it!
RELATED: How Successful Food Truck Owners Can Achieve Even More Success
Attract More Customers
If you want to make more money, then you have to sell more product, and you make that goal a reality by attracting more customers.
Trust us when we say this: There are an endless amount of ways to attract more customers in this industry. You can increase your efforts when it comes to social media and marketing, you can add new meals/items to your menu, you can tailor specializes around families/kids/spring breakers, you can add a happy hour into the mix and the list could go on and on.
You could also offer new services, such as a takeout menu. This will be perfect for the customers who don't have all the time in the world when it comes to waiting for their food, and it is also a great way to attract more customers, which could lead to your business being more profitable.
There are plenty of ways to make your food truck business more profitable, and we hope the three ways above can help you achieve all of your goals and dreams in this industry!
Want to learn how to build a subscriber list for your food truck business? One of our managing partners here at FoodTruckr has put together an AMAZING FREE GUIDE that will teach you everything you need to know about getting started with Messenger Marketing! Click here to get your free guide.
Looking to build a new custom food truck? Check out this link for more details!
To dig your teeth into what FoodTruckr has to offer, make sure to like us on Facebook and follow us on Twitter, and also make sure to check out more content that we bring to the table.
There is no ads to display, Please add some