Editor's Note: Today we're excited to present a post from Jeremy Adams. Jeremy is the President/CEO of Prestige Food Trucks, which is the world's leading custom food truck manufacturer. In his current role as President/CEO, Jeremy manages dozens of employees, interacts with clients, and maintains a healthy relationship with all of his business partners. Since Prestige, Jeremy has launched many other successful companies.
You have always wanted to be a chef. As a result, we pose this question: Why not enter the food truck industry?
The mobile kitchen industry literally provides people with an opportunity to be a chef. Not only that, but the industry is booming right now. If you want to be a chef, own your own business or anything in between, then you should really think about entering the food truck industry.
If you are on the fence, or the idea of becoming a food truck owner is new to you, then we will be dropping some reasons why you should become a mobile kitchen chef in the very near future.
Sign up to receive the FoodTruckr Newsletter and we'll throw in our free guide: 6 Free Social Media Tools to Get People Talking About Your Food Truck.

Being A Chef Is Your Dream, So Enter The Food Truck Industry
As a chef in the food truck industry, you will get to make the menus. In fact, you call all of the shots when it comes to the food.
You get to be your own boss as a food truck owner, and who doesn't want to be their own boss?
You get to meet new people (networking opportunities alone should have entrepreneurs drooling) every day, and especially when you venture to food truck events or hold catering gigs.
You get to own your own business. This is another thing that should have entrepreneurs drooling.
A food truck is less of a risk than opening up a sit-down restaurant from a money standpoint. So if you are worried about money, whether it is the initial cost or the amount of money it takes to keep a business running, then opening up a mobile kitchen is perfect for you, especially since you want to run your own kitchen.
Looking for Food Trucks For Sale? Check out this link for more details!
A food truck provides everything a sit-down restaurant does, and it is mobile on top of that, meaning you aren't stuck in one place. You get to serve people food, and make them happy in the process. You get to come up with your own recipes and do some experimenting in the kitchen. You get to build a community (that's what the food truck industry is all about). Above all else, you get to follow your dream of being a chef.
RELATED: How Your Food Truck Business Can Rock Spring. If you are in the market for rocking spring in the food truck industry — which you should be — then let this article lead you down the right path.
There are plenty of other reasons why prospective chefs should join the food truck industry, but the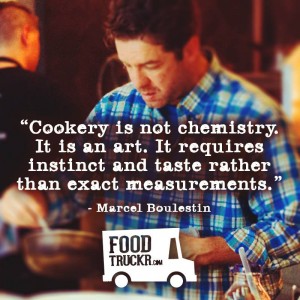 reasons above should have future chefs excited about this opportunity, the opportunity that is owning a food truck.
Being a chef is your No. 1 dream, and the food truck industry is the perfect industry to make that dream come true. What are you waiting for?
Looking to start your own food truck? Prestige Food Trucks can do wonders for you in that department.
To dig your teeth into what FoodTruckr has to offer, make sure to like us on Facebook and follow us on Twitter, and also make sure to check out more content that we bring to the table.
There is no ads to display, Please add some