Today is the last Friday of the year, if you can believe that.
So, for this week's edition of Flashback Friday, we wanted to do something extra special…
Not only will we be going back in time to check out an article that is jam-packed with food truck information but we will also be providing the link to every Flashback Friday article of 2017.
Check it out below, and happy New Year!
Want to learn how to build a subscriber list for your food truck business? One of our managing partners here at FoodTruckr has put together an AMAZING FREE GUIDE that will teach you everything you need to know about getting started with Messenger Marketing! Click here to get your free guide.
Flashback Friday: What To Do When You Don't Have Enough Food Truck Customers
Sign up to receive the FoodTruckr Newsletter and we'll throw in our free guide: 6 Free Social Media Tools to Get People Talking About Your Food Truck.
Preview:
Today's an exciting day here at FoodTruckr—it marks the return of the "How to Run a Food Truck" series! We can't wait to continue bringing you the brand new business advice and insider tips that will help you run a successful food truck, so we're going to dig right in.

When we left off last, we were in the midst of Unit 3—a section that's all about overcoming the most common challenges FoodTruckrs face. We showed you how to prepare for the off-season in Lesson 09, and helped you perform preventive food truck maintenance in Lesson 10. Today, we're going to tackle another especially important topic that every new food truck owner needs to consider: What do you do when you don't have enough customers?
Looking for Food Trucks For Sale? Check out this link for more details!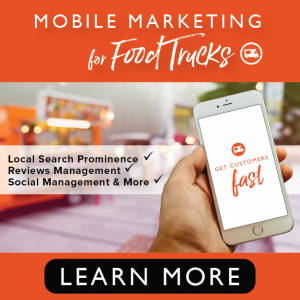 More preview action from the article:
2. Reevaluate What You're Spending and Using

Once you have a clear picture of your food truck's finances and you know which items are and aren't selling, it's time to reevaluate what you're spending.

First, let's start out by looking at the ingredients and tools you're purchasing to keep your truck running on a daily basis. Are there any menu items that aren't selling well that require you to purchase special ingredients or tools? Consider taking them off your menu and focusing on items that will sell better. How about the ways you're packaging your food? For instance, do you really need to have plates for people who want to eat right then and to-go boxes for people who are on their way back to work? Perhaps you can eliminate the plates from your weekly budget and instead give everyone their food in a box.

You can also cut back on supply waste by offering bags to customers instead of automatically giving them away with each order, and by setting napkins and silverware out on the counter where customers can easily see and take them instead of putting them in every single bag. Many people don't need these items and will throw them away as soon as they reach their destination anyway, so you can save money (and the environment!) by only providing them to the people who want them.

After you've figured out how to reduce product and food waste on your truck, it's time to take a look at your overall budget and how much you're spending on categories like marketing, repairs, and truck improvements. We could go into a lot more detail on all of these topics (and will in the future), but for now, it's simply important to be really conscious of your spending and to look for ways to reduce your costs. Here are a few ideas:
Looking to take your food truck business to the next level? If so, then The Food Truck Growth Kit has your name written all over it!
And now, we give you every Flashback Friday article from 2017.
Flashback Friday: Looking Back At FoodTruckr's Top Party Food Ideas For The 4th Of July
Flashback Friday: All-Star Advice From Real Food Truck Owners
Flashback Friday: A Look Back At Some Invaluable Food Truck Maintenance Tips
Flashback Friday: A Look Back At Why Food Truck Weddings Are Becoming So Popular
Flashback Friday: Finding Prime Parking In The Food Truck Industry
Flashback Friday: A Look Back At The Benefits Of Owning A Food Truck Over A Sit-Down Restaurant
Flashback Friday: Improve Your Social Media Outreach At Your Food Truck
Flashback Friday: A Look Back At Every Food Truck Article From September 2016
Flashback Friday: Entrepreneurs Should Break Into The Food Truck Industry
Flashback Friday: A Look Back At FoodTruckr's First Article Of 2017
Flashback Friday: The 10 Commandments Of Customer Relationships
Flashback Friday: Choose The Right Truck For Your Business
Flashback Friday: Market Like An Advanced Food Truck Owner
Flashback Friday: Train Your Food Truck Employees
Flashback Friday: Be Consistent At Your Food Truck
Flashback Friday: The First Article Ever Published At FoodTruckr
Flashback Friday: A Look Back At Tips For Food Truck Entrepreneurship
Flashback Friday: Building And Growing Your Food Truck Catering Business
Flashback Friday: This Food Truck Serves Up Pizza In Alaska Year-Round
Flashback Friday: A Look Back At December 2016 At FoodTruckr
Flashback Friday: Use Apps To Simplify Your Food Truck Business
Flashback Friday: Deliver Excellent Customer Service At Your Food Truck
If you liked this article, then we encourage you to share your feedback, advice, questions and/or stories below!
Looking to build a new custom food truck? Check out this link for more details!
To dig your teeth into what FoodTruckr has to offer, make sure to like us on Facebook and follow us on Twitter, and also make sure to check out more content that we bring to the table.
There is no ads to display, Please add some