Editor's Note: Today we're excited to present a post from Nicholas Walker. Nicholas has been working for UK Edu Birdie for one year, and he thinks he has found a dream job for himself. His hobbies are photography and traveling. He has a dream to see the whole world. His motto: "You fail only if you stop writing."
Halloween is one of the biggest holidays of the year, and all the cafes and restaurants not only decorate their interiors during this time but add "spooky" dishes and drinks to the menu as well.
Okay, you are not an owner of a restaurant, but you do have a food truck. Therefore, you need to do the same thing as a restaurant owner: Decorate the truck inside and out, and update your menu. If you wish to find out how you can update the menu for Halloween, then please continue to read!
Sign up to receive the FoodTruckr Newsletter and we'll throw in our free guide: 6 Free Social Media Tools to Get People Talking About Your Food Truck.
Pumpkin Spice Latte
One of the best Halloween ideas for the menu would be to use the item that is associated with the holiday, namely the pumpkin. Pumpkin spice lattes are super popular because of the amazing taste. This drink would immediately upgrade your menu, and you would attract more and more customers.
All you have to do is buy either a pumpkin syrup or the puree. In the first case, it would be cheaper and easier … but the latte would taste a bit more chemical, if you will. If you decide to cook the latte with the pumpkin puree, then you would have to mess around a little, but the taste would be of true pumpkin flavor.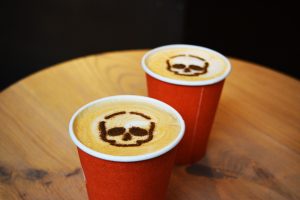 Jack-O'-Lantern Doughnut
This food has to appear on your streets menu!
The doughnuts have just the right shape to become jack-o'-lanterns for a while. You can do them in different colors and with different funny facial expressions (because jack-o'-lanterns do have facial expressions, right?).
People love doughnuts because it is amazing to have a quick snack with coffee on the way to work, or during the coffee break. You can make this treat either with the hole in the middle or without it — the most important thing is that they have to resemble jack-o'-lanterns.
Looking to take your food truck business to the next level? If so, then The Food Truck Growth Kit has your name written all over it!
Non-Alcoholic Beverages With Dry Ice
Beverages with dry ice would amaze the public — trust us! Your street food cart will become super popular if you promote these beverages. It does not matter what the drink is — any drink would look mysterious with the dry ice.
All you have to do is visit a Halloween store that sells dry ice, and add it to the drinks you already have on the menu (or ones you plan on adding to the menu during this time). However, it would be cool if you created the new drinks with colors that correspond with the Halloween theme/atmosphere.
Coffin Sandwiches
As for the grilled menu, we advise you to make the sandwiches in the coffin shape. They would look amazingly atmospheric, and are very easy to do. All you have to do is cut the bread (and all of the fillings) in the coffin shape. You can write something like "RIP" on the top so that it is super clear that it is a coffin. You can make the sandwiches different sizes, and you can fill them in with different ingredients. You can make meat and vegetarian options as well.
The most important thing here: The sandwich must have a coffin shape, and it has to be grilled.
Apart from the change of the restaurant menu, you can do many other marketing tricks that could attract customers. You can pack their food items in special trick-or-treat bags with candy inside (and do not forget the food truck's contact information!). You can dish out other names to your meals for the Halloween period — your hot dog can be named "Frankenweenie," as an example. You can offer a discount for Halloween costumes. For instance, if people are dressed up, they get 25 percent off.
Happy Halloween, FoodTruckrs!
If you liked this article, then we encourage you to share your feedback, advice, questions and/or stories below!
Looking to build a new custom food truck? Check out this link for more details!
To dig your teeth into what FoodTruckr has to offer, make sure to like us on Facebook and follow us on Twitter, and also make sure to check out more content that we bring to the table.
There is no ads to display, Please add some