Believe it or not, tomorrow is the first day of November, which means there are only two months left in the year for food truck owners to meet all of their goals. Are you on track when it comes to meeting your goals, or are you way behind? Nonetheless, it might be time to change up your food truck strategy a bit, and ramping up your catering side of the business is the perfect way to do that.
While you don't typically have to wait until November to ramp up your catering business, right now is the perfect time to do just that, and we will provide four reasons why. With that in mind, it's never too late to branch out in the food truck industry. How can I branch out in this industry, one might be wondering? Simple. You can start catering, tackling new events, etc.
Sign up to receive the FoodTruckr Newsletter and we'll throw in our free guide: 6 Free Social Media Tools to Get People Talking About Your Food Truck.
November Is The Perfect Month For Food Trucks To Ramp Up Their Catering Businesses
Gain New Customers For The New Year
Because Business Is Likely Slow Anyways
You Can't Get Complacent In This Industry
Because Catering/Adding Another Form Of Income Is Good For Business
Gain New Customers For The New Year
If you start ramping up your catering business now, then you can really hit the ground running once the calendar turns over to 2017. Why? Well, because catering opens up the door for more opportunities, and you might also have gigs already set up in advance.
For example, you might cater for a holiday party and completely knock it out of the park. One might be wondering what comes next after that. Well, some guests might hire you in the future for events of their own. Therefore, one gig can easily lead to two, three, four or five gigs (or more!).
If you have a ton of catering jobs lined up for 2017, then you are not only going to be rather busy, and making great money in the process, but you are also going to be catering for new people. That is where new customers come into play. Not to mention, more and more people from these catering events might go to your truck outside of an event.
Because Business Is Likely Slow Anyways
Not everyone lives in a place like Florida or California, which means not everyone has the luxury of dealing with nice weather every single day of the year — well, for the most part, that is. With that said, once November, December and January roll around, your food truck's business could take a big hit. In most cases, that is expected. After all, mobile kitchen owners are familiar with the slow season.
Since your sales might be down because of the slow season, why wouldn't you ramp up your catering side of the business? You might have more time on your hands as a result of not staying open as late, and there are plenty of cold days when you are going to be closed altogether. In between all of that, though, there are still going to be plenty of people who are looking for food places to cater special events, and that is where your food truck comes into play — and saves the day.
Basically, business is slow, but if you plan on making good money regardless, then you have to search for other opportunities. You know, like catering.
You Can't Get Complacent In This Industry
The food truck industry might not be that hard to break into if you have a lot of money saved up, or can get your truck financed easily, but that does not mean things are going to be easy once you have actually started up your business.
Looking for financing to start or grow an existing food truck? JSL Financial has you covered.
This industry is brutal for so many different reasons, and you can't afford to get complacent as a result. If you get complacent, then your competition could start to break away from you. What does that mean? Well, it might just mean your competition is more successful, or it could lead to you losing customers to your competition.
In the food truck industry, you have to always be implementing new strategies when it comes to your menu, social media, marketing — you name it. That's how you grow and thrive.
If you start ramping up your catering business now, then you will be doing the exact opposite of getting complacent — you will be adding a new weapon to the mix, and you will also be adding another form of income to your business.
RELATED: 5 Unique Things Food Truck Business Owners Should Do Every Day. Don't get complacent. In the spirit of that thinking, try out these five unique things at your food truck business. While you're at it, you might as well implement them every single day your mobile kitchen is serving up food.
Because Catering/Adding Another Form Of Income Is Good For Business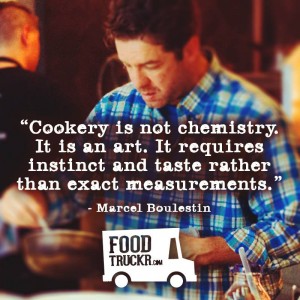 With catering, you are adding another form of income to the mix. Not only can this lead to more money, but it also means you can count on more than one form of income. That — in every sense of the word — is good for business.
Once again, this industry is tough to grow and thrive in, but you can achieve both of those things by branching out. You can do exactly that by adding more streams of income to the mix via catering and food truck events.
While most of your business might consist of being parked at your designated location(s) and selling food, there are plenty of other ways to make money, like catering.
Right now (November) is the perfect time to incorporate more catering gigs. Why? Well, because you can gain more customers for 2017 if you start lining up catering jobs now, business is likely slow anyways (or is at least about to be once the temperatures drop), you can't get complacent, especially at the end of the year, and any time is a good time to gain another stream of income.
Just remember this: Catering is good for business because it could — and should — lead to more customers and more money.
To dig your teeth into what FoodTruckr has to offer, make sure to like us on Facebook and follow us on Twitter, and also make sure to check out more content that we bring to the table.
There is no ads to display, Please add some